What is Off Grid
Solar System?
An off-grid solar system relies on energy from the sun to run homes, off-grid builds, or even recreational vehicles. Unlike grid-tied solar systems, batteries store any solar energy collected from panels in order to run some of, or your entire home. Off-grid solar system setups give you the freedom to live comfortably, and the option to run almost any appliance, rain or shine, morning or night.

Lower Carbon
Emissions

Reduce
Energy Bills

Energy
Independence
How Does Off Grid
Solar System Work?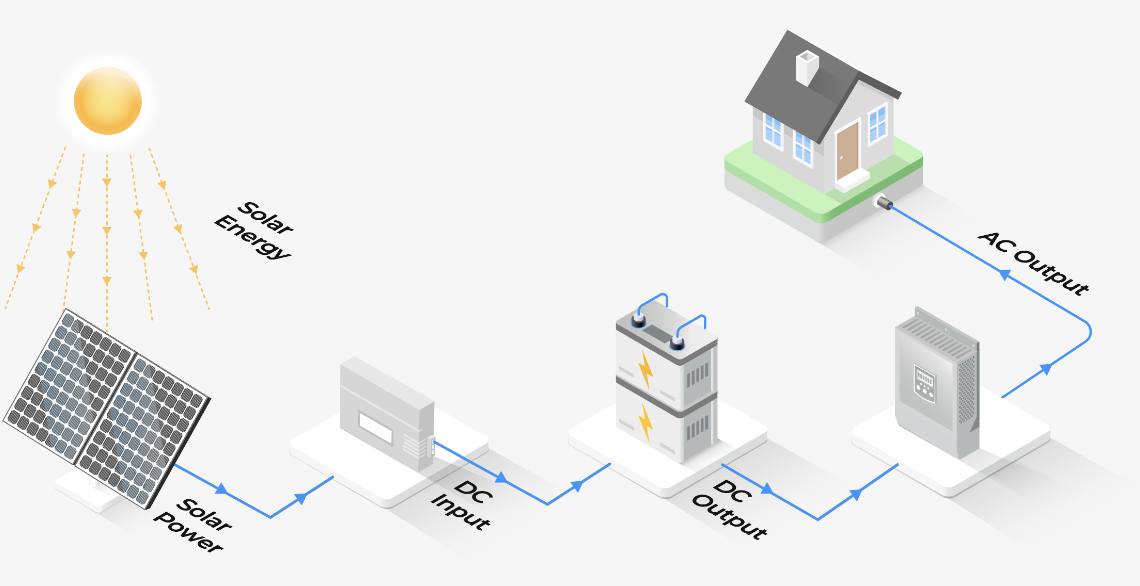 Collects
Solar panels capture solar energy using high-converting solar cells.
Controls
The charge controller regulates batteries to prevent overcharging and damage.
Stores
Energy is stored in solar batteries until it is needed.
Converts
An inverter 'transforms' DC current into usable AC output to power almost any appliance.
What's in Off Grid
Solar System?
All off-grid solar systems include 4 major components: solar panels, a charge controller, a battery, and an inverter.
Solar Panels
Solar panels come in all sizes and watts for portability or permanent mounting. Find the best panel for a home, off-grid living, or even camping.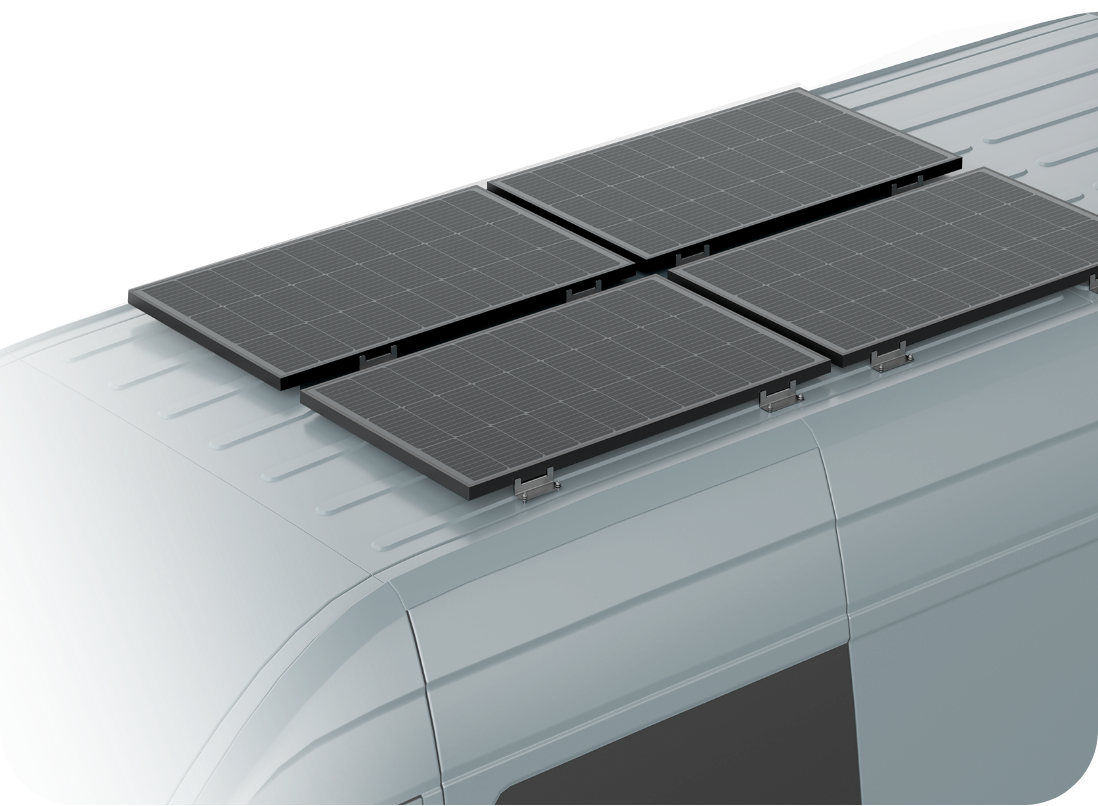 Charge Controller
MPPT charge controllers monitor solar panels, selecting the optimal voltage for the current scenario, or maximum power point tracking (MPPT). Charge controllers maximize system efficiency by optimizing operating voltages between the panels and batteries.
Inverter
Without an inverter, solar energy is pretty useless. It turns DC current from solar energy or a battery into the more accessible 120/240v to run all your AC appliances.
Solar Battery
Solar batteries store power collected from your solar panels. Often described as deep cycle batteries as they're designed to charge and recharge or 'cycle' many times.
Ecoflow
Solar Generators
Connect solar panels to a portable power station to collect clean, renewable energy anywhere you go. With panels ranging from 110W-400W and power station capacities of up to 3.6kWh, solar generators are a portable alternative to off-grid solar systems offering a temporary solution for home backup, lowering your bills, or even for your off-grid adventures.
RIVER 2 Pro
Solar Generator (PV220W)
DELTA Solar
Generator (PV110W)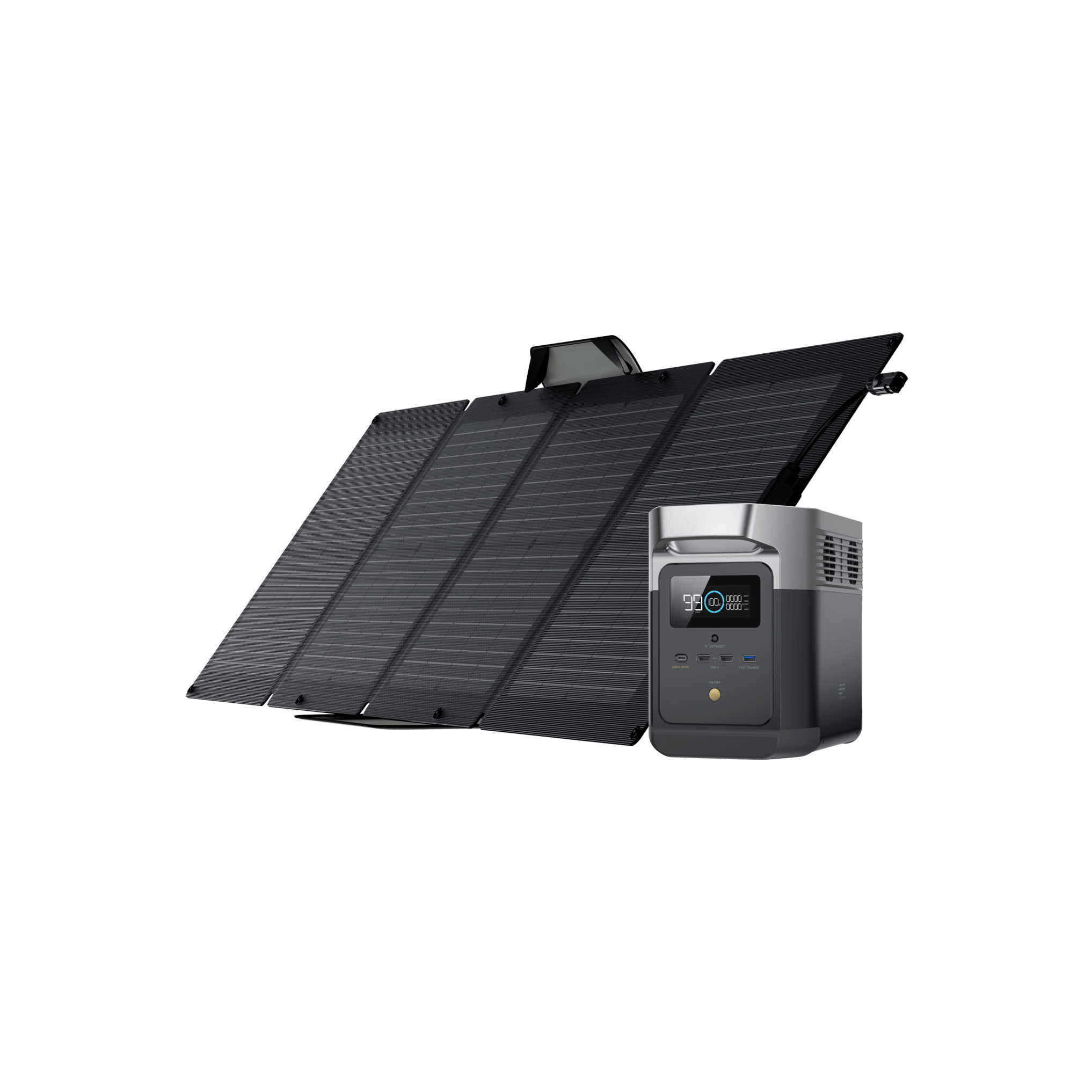 DELTA Max Solar
Generator (PV220W)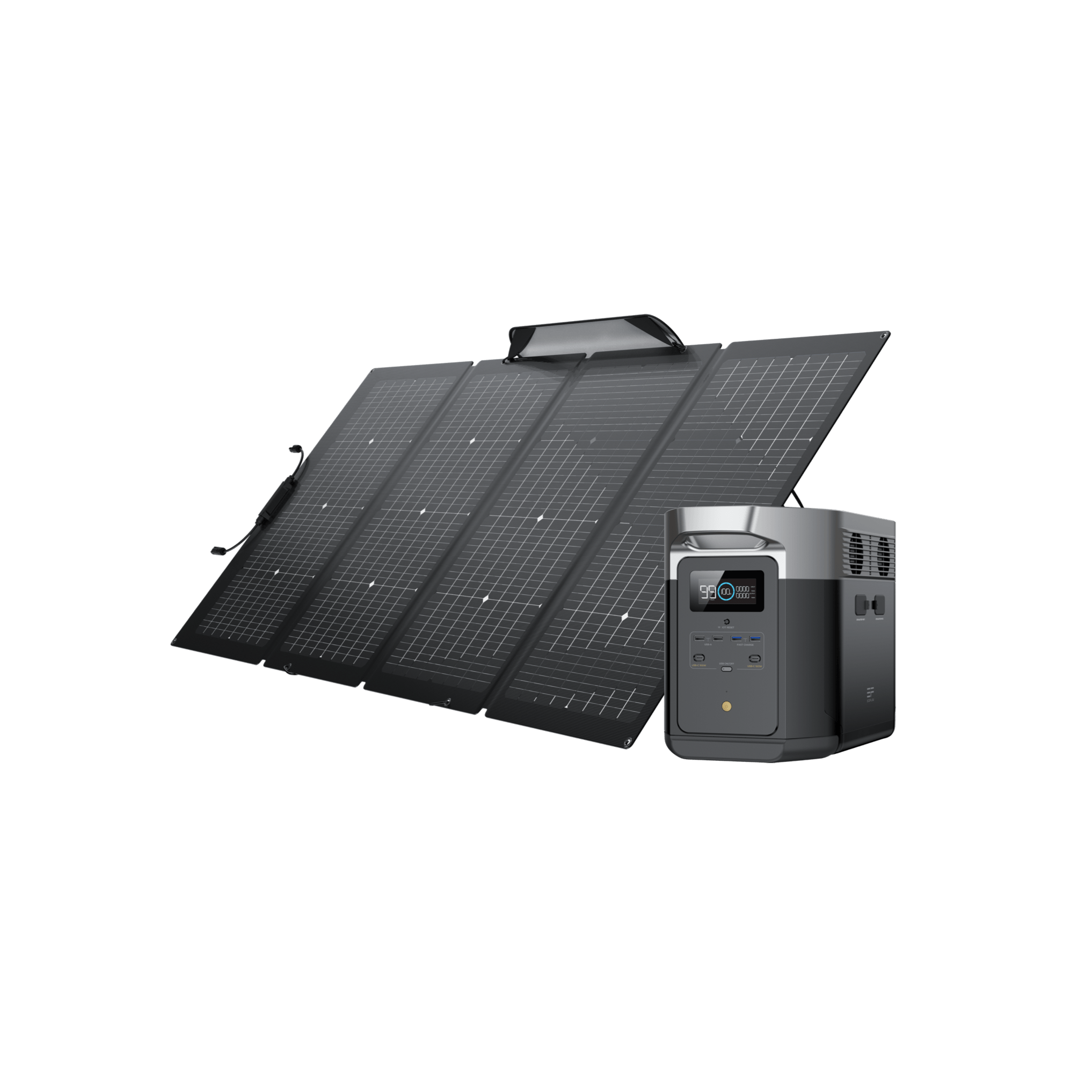 Benefits of Off Grid
Solar System
The main benefit of off-grid solar systems is having complete energy independence for cabins and RVs. Plus, there's also an opportunity to substantially reduce your carbon footprint.

Energy Independence
An off-grid solar system can ensure your cabin has power that's completely independent of the grid. In remote locations, solar energy is a reliable way to stay powered no matter what.

Freedom to Boondock
With an off-grid system like Power Kits, you're free to travel and camp pretty much anywhere. You no longer have to rely on campsites for power and can top-up using solar from anywhere!

Lower Carbon Emissions
Burning fossil fuels releases carbon dioxide into the atmosphere, damaging the environment. Powering our homes, no matter how small, with renewable energies, such as solar, reduces the continuing damage caused by global warming, improving our environment for the future.
Read More From EcoFlow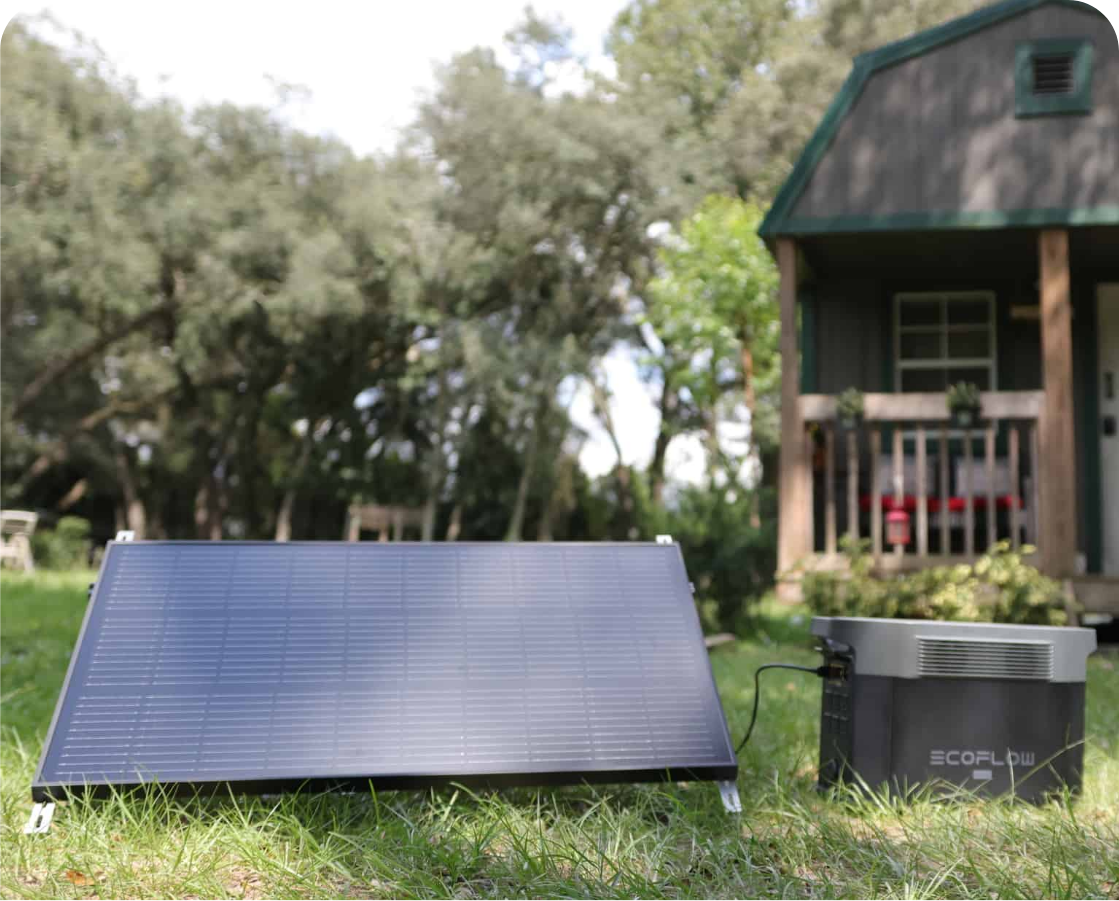 What Are the Differences Between On-Grid and Off-Grid Solar?
The differences between on-grid and off-grid solar goes beyond the grid-tied setup. The right system depends on your needs, budget, and grid access.
...
Read More
FAQ
What Is the Difference Between Off-Grid and On-Grid Solar Systems?
An off-grid system is not connected to the utility grid. An on-grid — or tied — system is. With an on-grid system, your solar system diverts any excess power you generate to the utility grid. You may receive energy credits for this excess energy through a net metering program, but you don't get to store off-grid energy in reserve. An off-grid system lets you use the energy you have generated, with any excess stored in your solar generator or portable power station.
How Do You Build an Off-Grid Solar System?
How Many Solar Panels Do You Need to Run a House Off-Grid?
How Much Does an Off-Grid Solar System Cost?
How Many Batteries Do You Need for an Off-Grid Solar System?
Which Is Better? An Off-Grid or an On-Grid Solar System?
How Big Should My Off-Grid System Be?
What Are the Advantages and Disadvantages of an Off-Grid Solar System?
Where's the Best Place to Install an Off-Grid Solar System?