Convert sunlight into clean, renewable energy using 400W portable solar panels, perfect for camping, RVs, and home use.


Universal


Seamless


Foldable
Portable
Travel-friendly
With a compact, folding design and shoulder strap, easily carry a 400W portable solar panel to your campsite or store in your RV while you're on the move.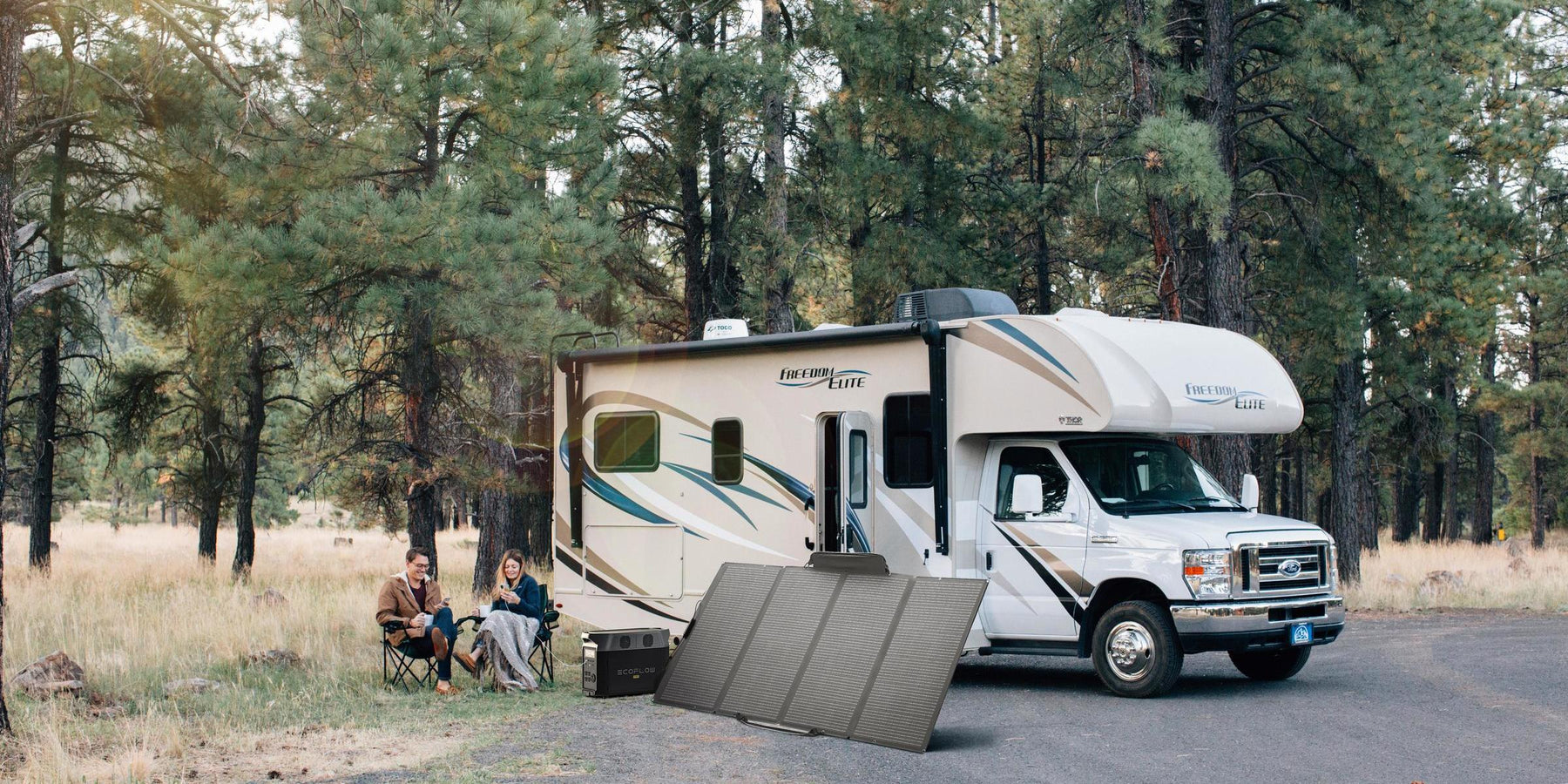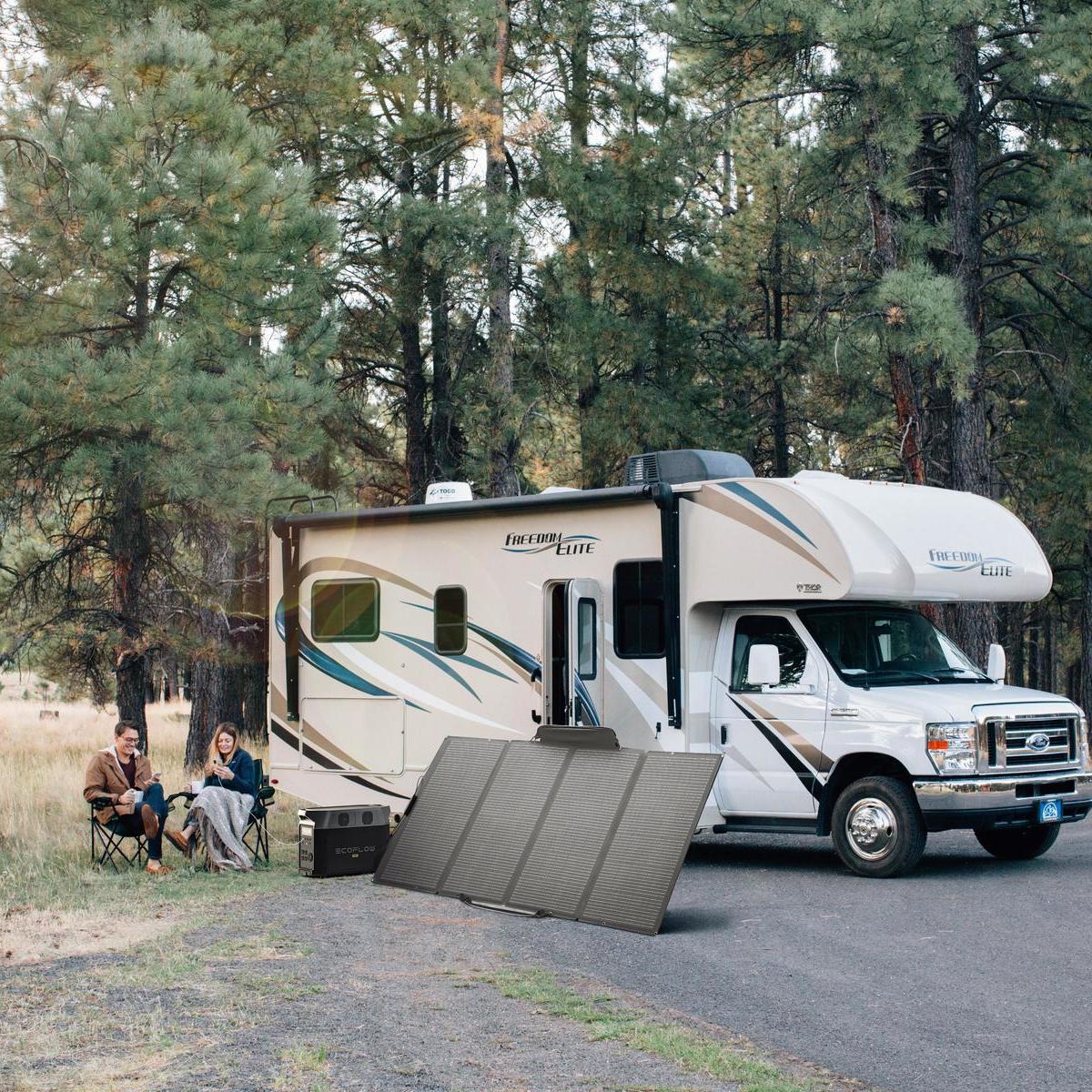 Stands & Delivers
Protect your panels with a lightweight case that turns into a practical stand. Prop up your solar panels anywhere you go and get just the right angle to capture the sun.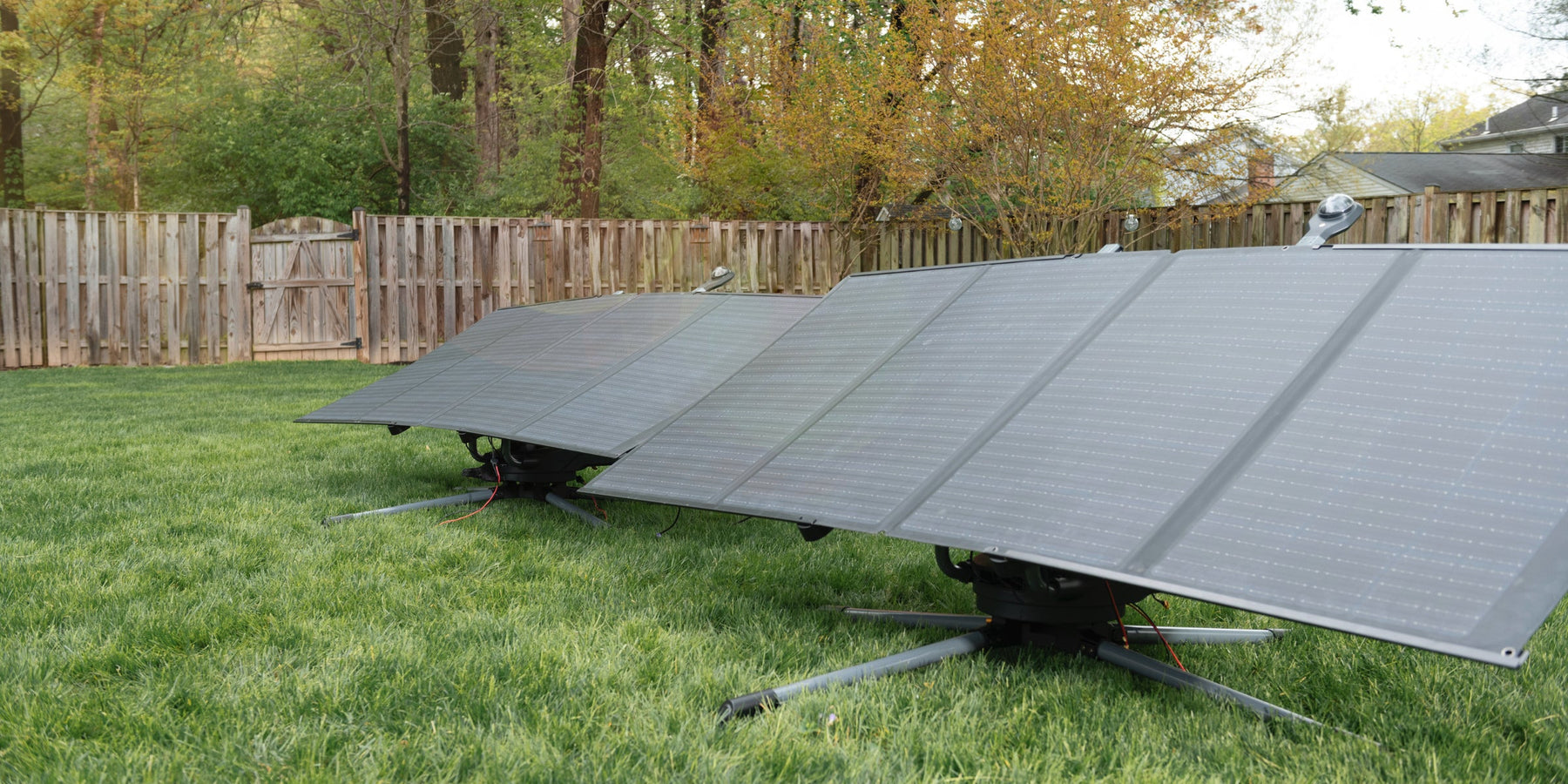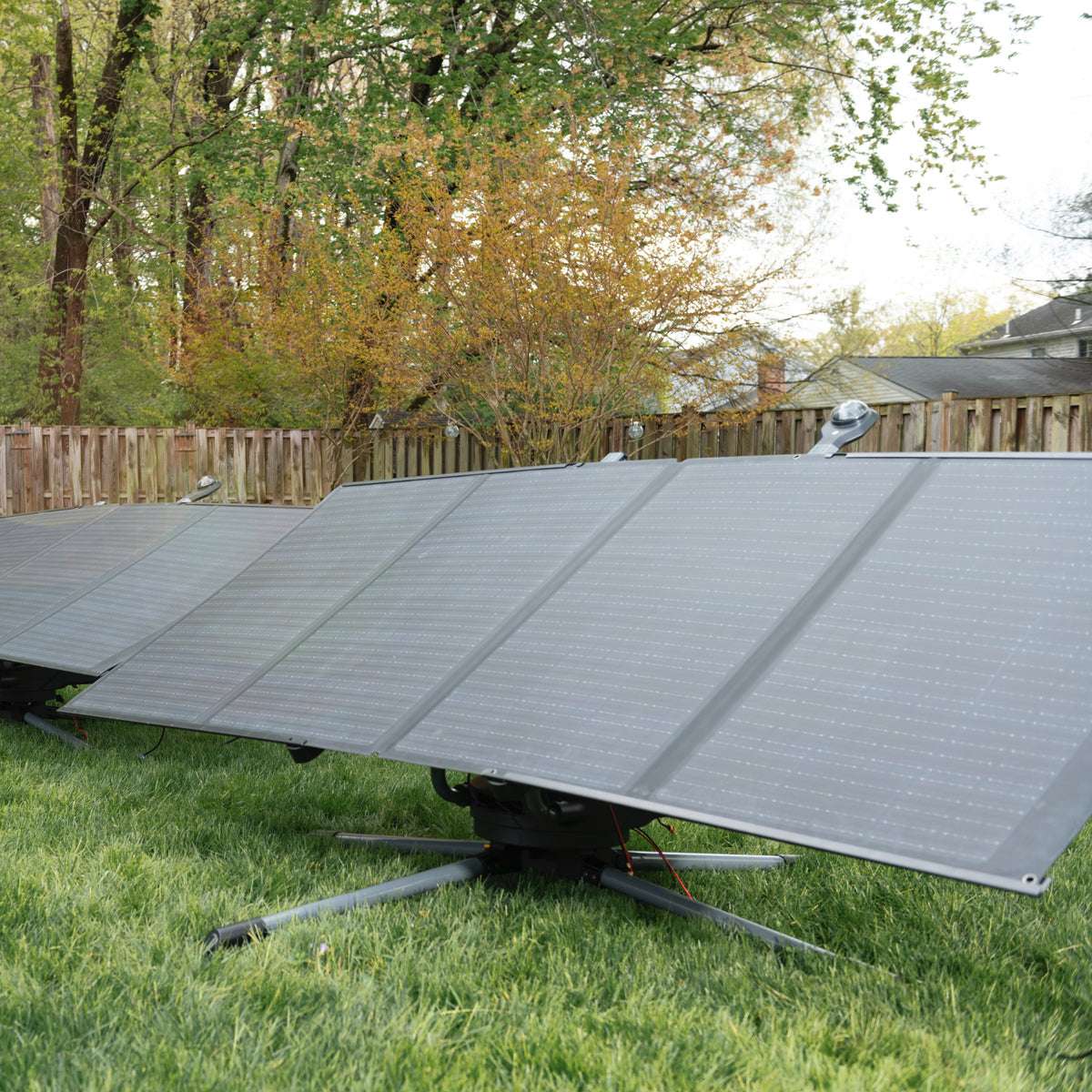 Durable & Waterproof
Made from layers of robust materials that offer both flexibility and strength, take your portable solar panels into the wildest terrain. An IP68 waterproofed surface protects solar cells from debris, dust, and water.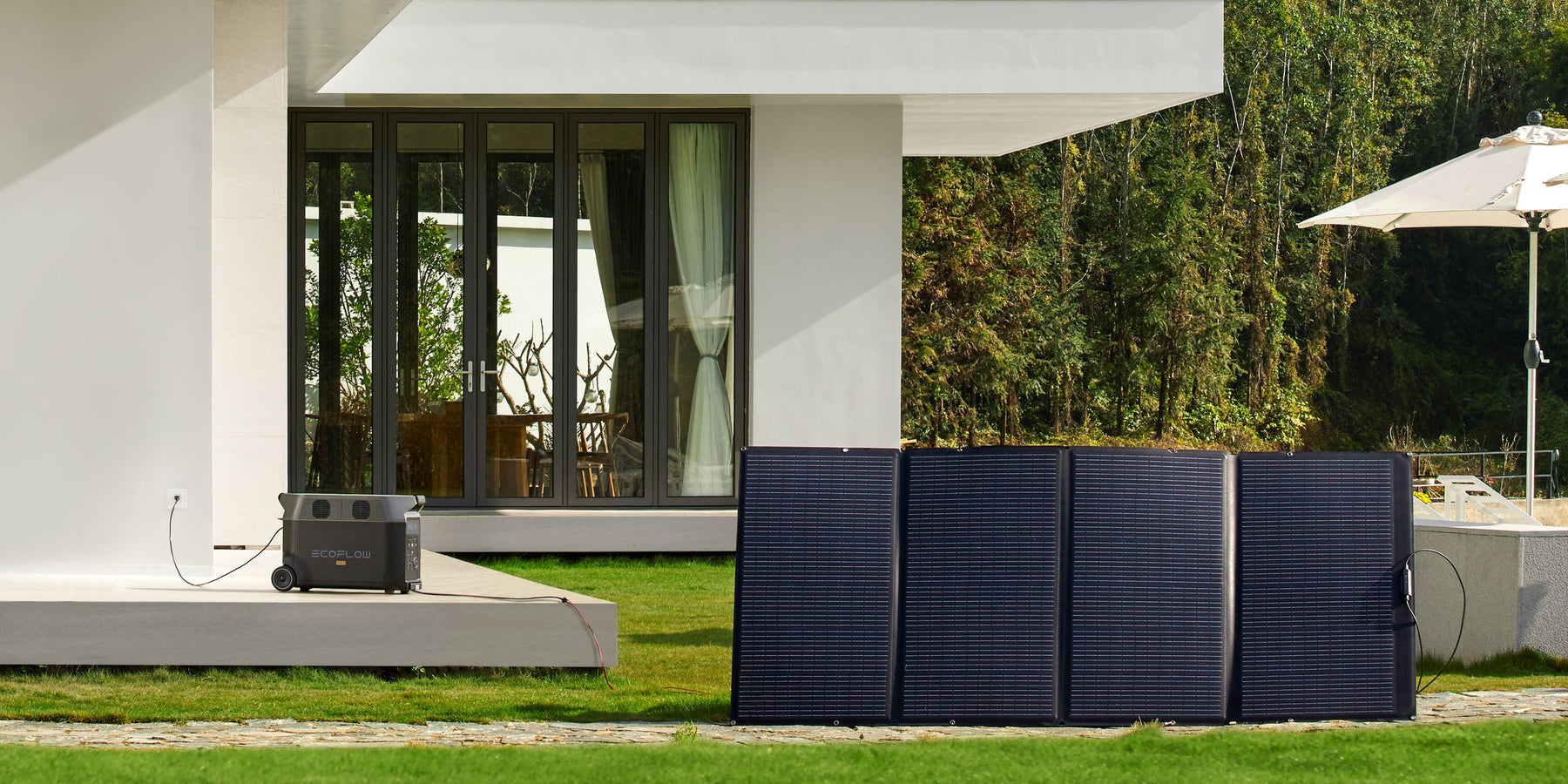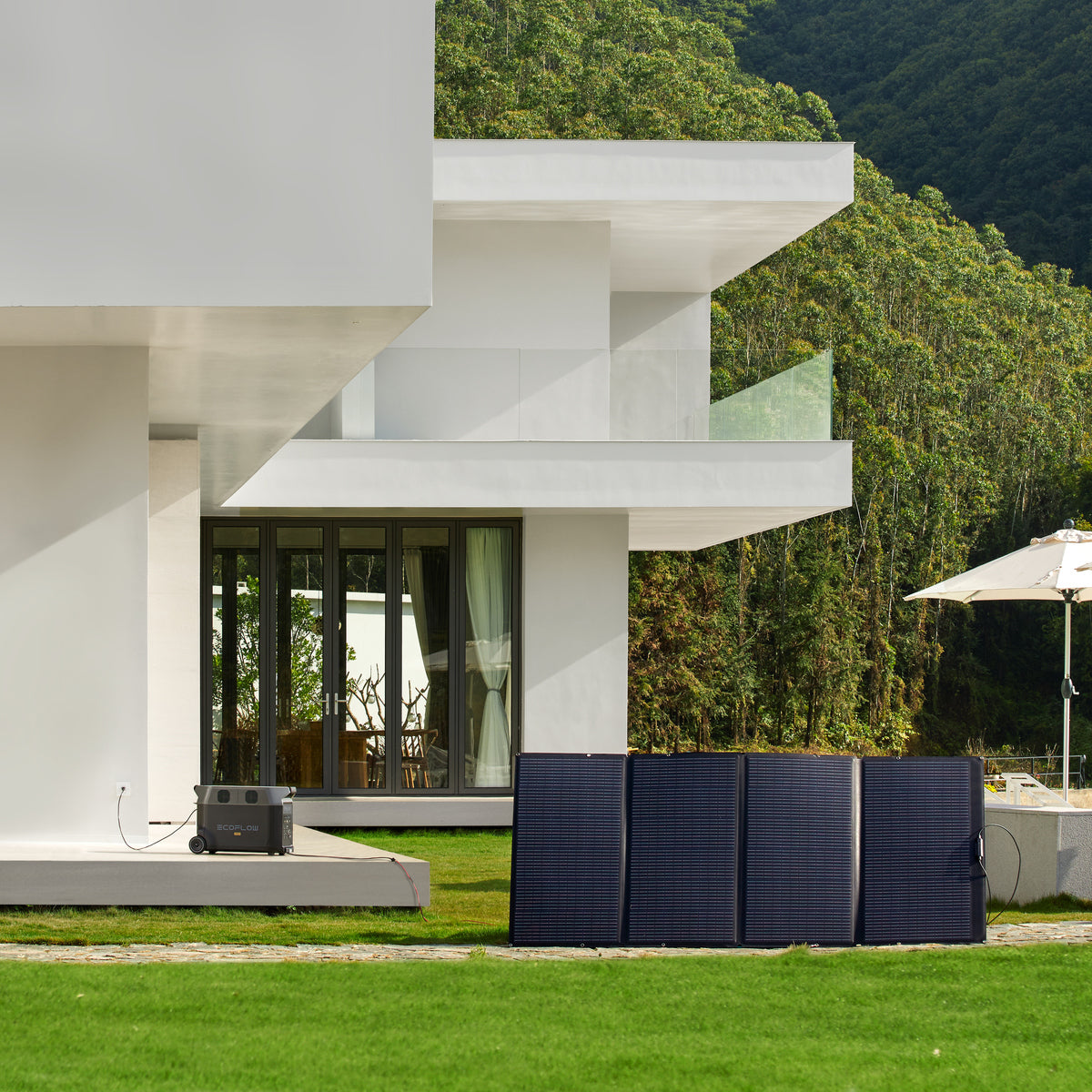 Works with all EcoFlow Portable Power Stations
Plug into any EcoFlow solar generators to instantly collect the sun's rays. With the universal MC4 connector, they also work with most third-party generators.
Stable & Reliable Energy
Pair your 400W portable solar panels with an EcoFlow power station for a reliable power supply. Using MPPT technology, the generator adjusts its efficiency levels to offer a high 22% conversion rate.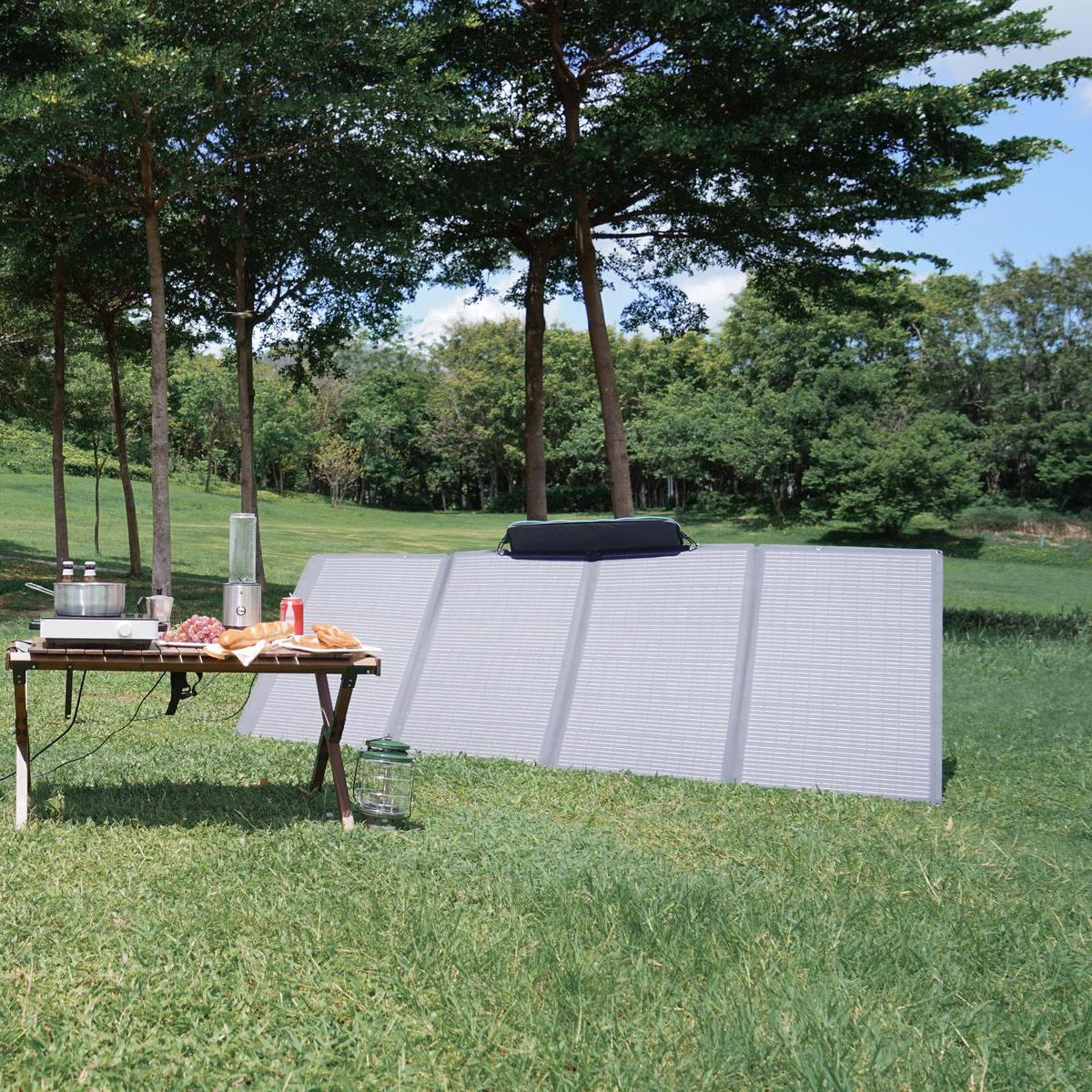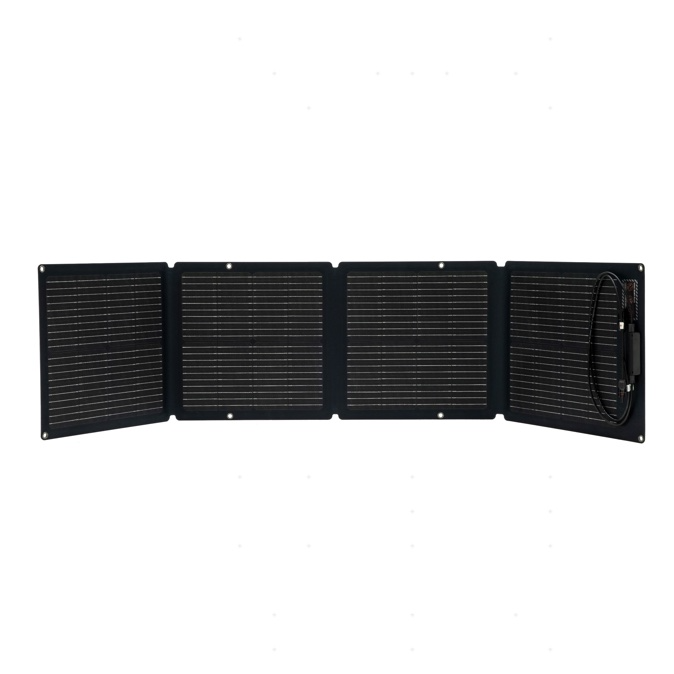 110W Solar Panel
Rated Power:110 Watts
Unfolded : 62.5 x 20.2 x 1.0 in
Efficiency : 21-22%
Warranty : 12 Months
$499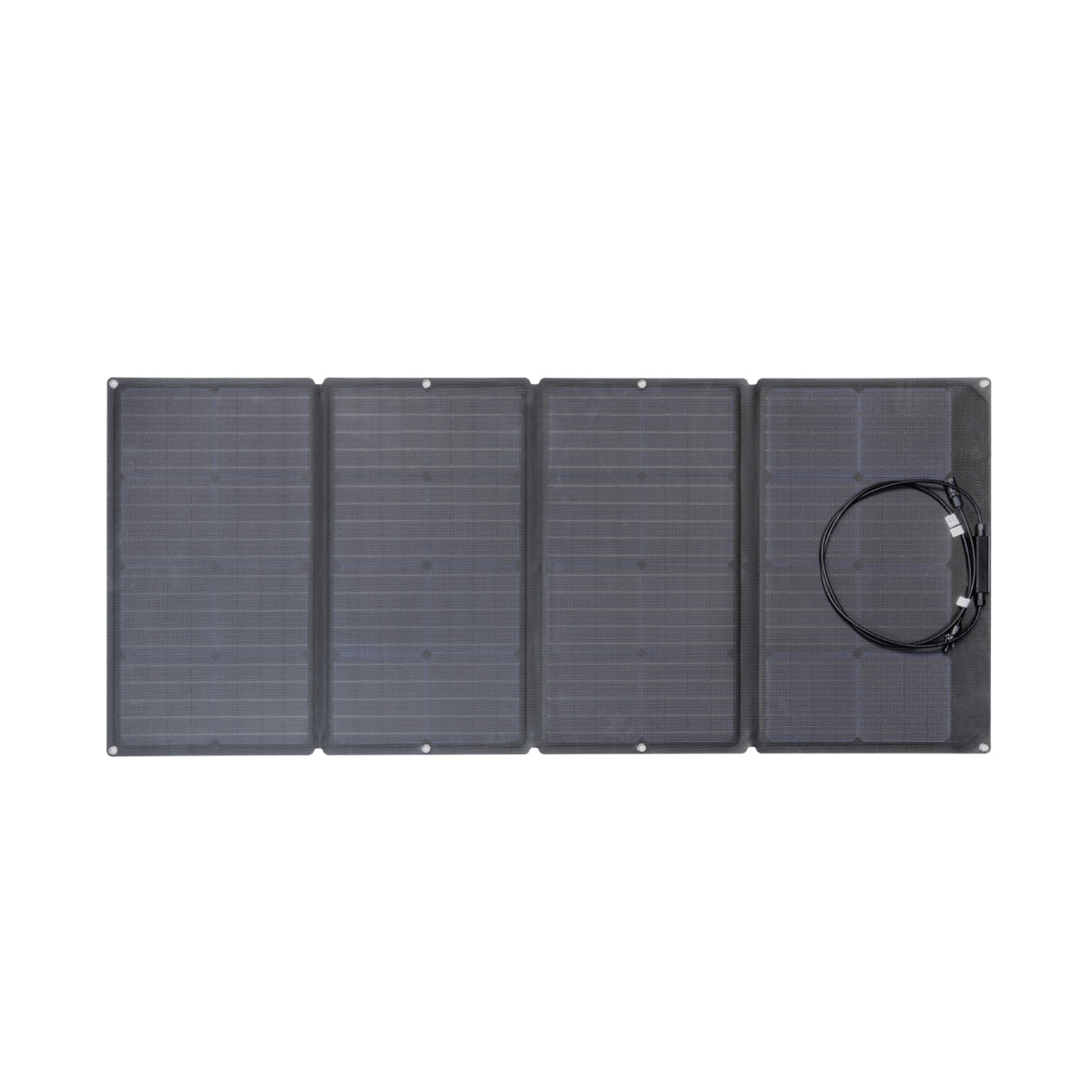 160W Solar Panel
Rated Power:160 Watts
Unfolded : 61.8 x 26.8 x 1.0 in
Efficiency : 21-22%
Warranty : 12 Months
$599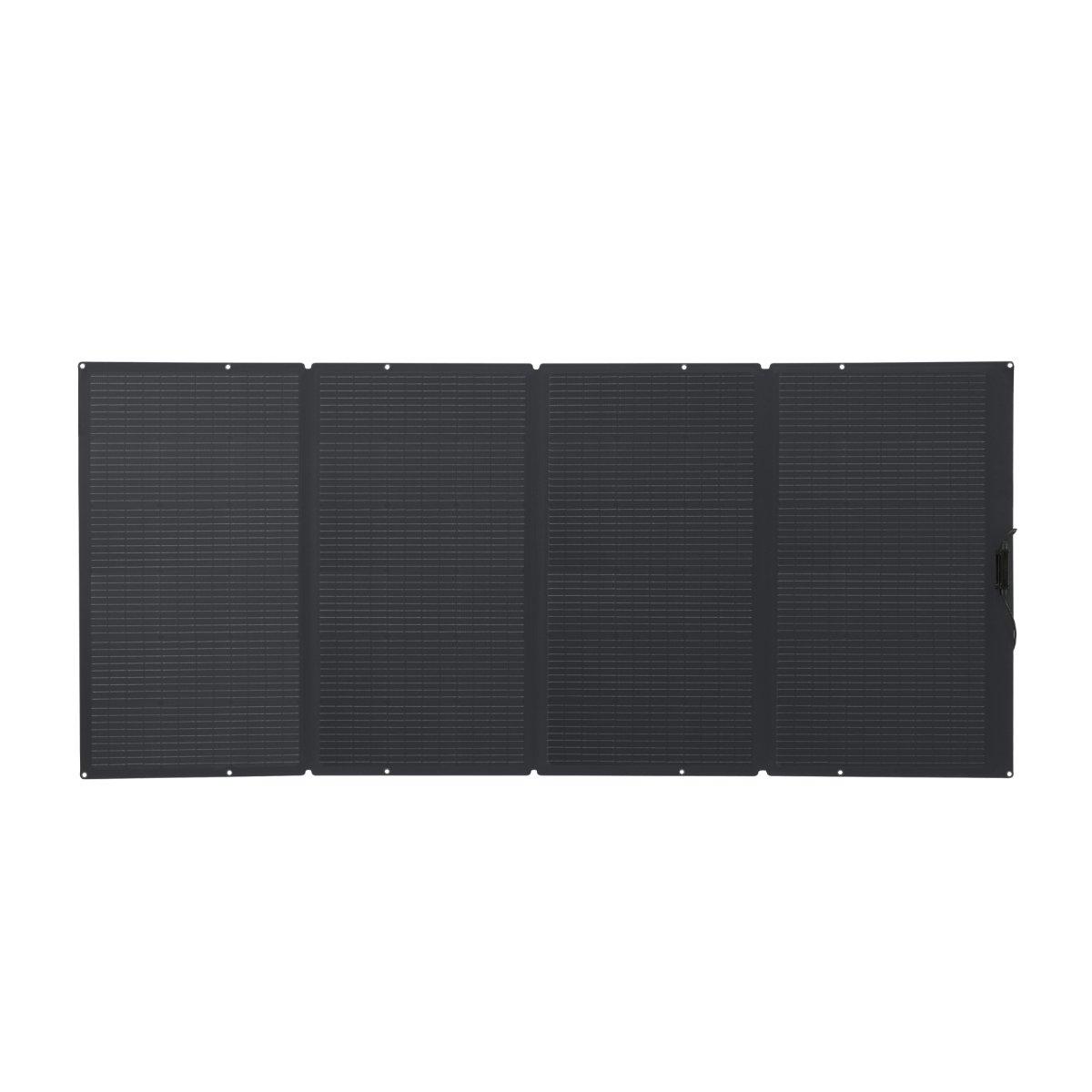 400W Solar Panel
Rated Power:400 Watts
Unfolded : 93.1 x 43.7 x 1.0 in
Efficiency : 22%
Warranty : 12 Months
$1,599
1. 400W Solar Panel 2. Kickstand Case 3. Solar to XT60 Charging Cable 4. User Manual
Frequently Asked Questions
Portable solar panels are an extremely effective, clean, and renewable way to charge a portable power station. EcoFlow 400W portable solar panels have a larger wattage than typical solar panels and are more efficient due to their monocrystalline cells. Spring up to four 400W portable solar panels and use with a DELTA Pro portable power station for input of 1600W. Additionally, EcoFlow portable power stations use an MPPT algorithm that ensures a constant energy supply. Unlike static solar panels, portable solar panels are easily moved and adjusted depending on where the sun is in the sky.
Positioning portable solar panels at an angle between 30-45 degrees, facing the direction of the sun, is best. EcoFlow portable solar panels have a built-in stand that can be adjusted, depending on where the sun is in the sky.
Solar panels that are portable, foldable, and lightweight are the best kind for camping. Pair one with a portable power station and string up to 4 together for immediate power that is clean, green, and renewable.
Cell Type
Monocrystalline silicon
Unfolded Dimension
1722*1134*35mm (67.8*44.6*1.38in)
Open Circuit Voltage
48V (Vmp 41V)
Short Circuit Current
11A(Imp 9.8A)
Weight(Solar Panel)
Approx. 21.8kg (48.1 Ibs)
Weight (with Kickstand Case)
Approx. 41.9 (19kg)
Waterproof & Dustproof
IP68
Great panel, needs a proper stand
Panel works great, does what a solar panel should do. However I will echo the same opinion that many others around the internet also share - the bag stand is a bit of a joke. It does nothing to solve the issue of the panel's weight and unwieldiness. When such excellent design acumen has gone into their class-leading range of products, it's frustrating (and utterly puzzling) to find the task of setting it up has been treated as an afterthought. Why not design a stripped-back version of the solar tracker (without the tracking tech) that can prop the panel up to the desired angle, keep it flat, swivel freely, perhaps sitting on wheels to make it easily moveable? It'd be a lot cheaper and sell well; I'd buy something like that in a heartbeat. The panel needs something far better than what's being sold. Considering the investment that goes into this equipment, a workable and cheaper stand really needs to be available.
3 X 400 w panels in tandem.
We have charged our Delta Pro with one panel and with 3 in series. At one point with the sun at the optimum level I noted a charging rate of 1273w. Pretty damn good I thought. Even with 3 panels lying flat from about 900hrs the Delta Pro charged from 40% to 100% by lunch. Excellent product although I do wish they were a few kg's lighter.
Solar panel
I love it, but it is very heavy, but I will buy other solar panel.
EcoFlow 400W Solar Panel
The case to be used as a stand is a joke. I couldn't get it to work for me at all. I opted to just lay the panel flat on my back deck. The sun hits my deck from around 9am until 6pm. It is July so I'm sure that will change, but for now it is working for me. With all that said and done, I still am able to produce up to 310watts. I'm very happy with that. My TV, and my gaming laptop and 2 fand and 2 phone chargers only pull 170watts. So I am able to game and charge other items and have no worries of using more power than I am producing..
Solar Panels need a stand
Works OK, a little heavy and I wish it away to stand it up at an angle, I havey another power station and the solar panels have some brackes that let you stand the pannel up.