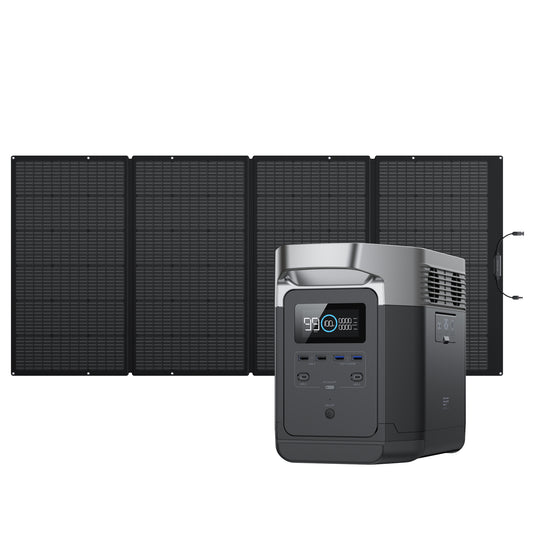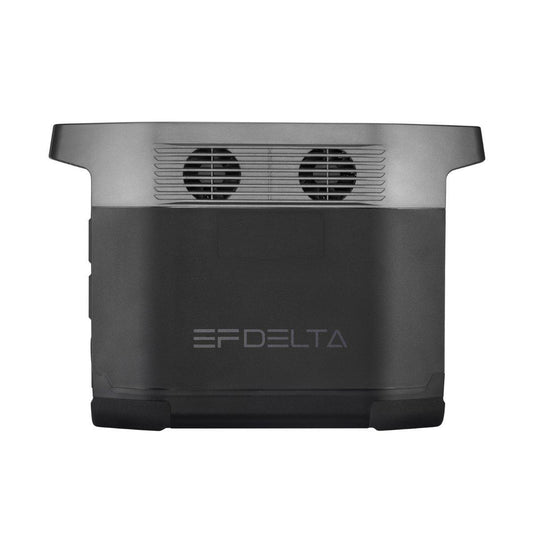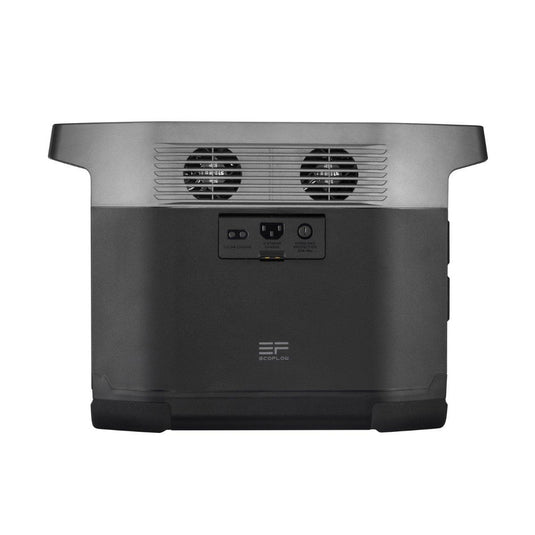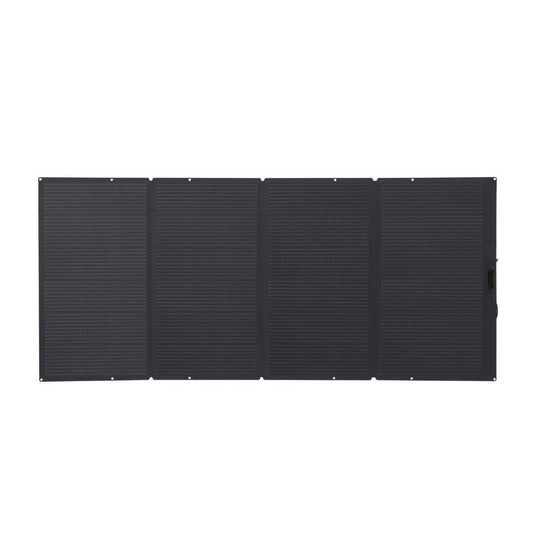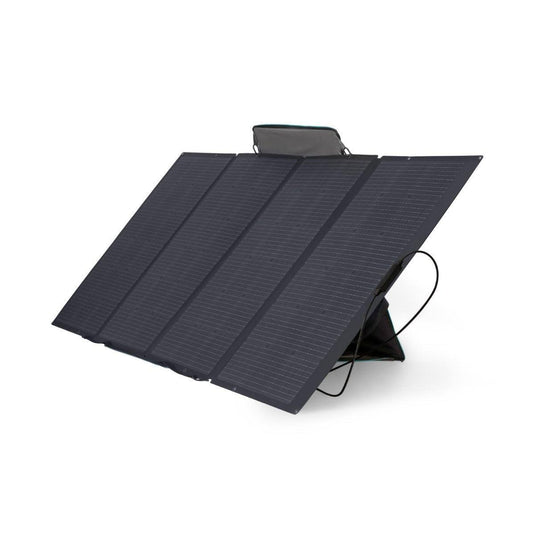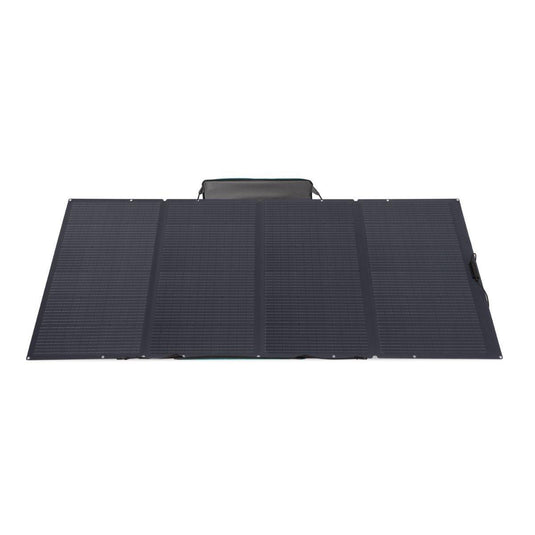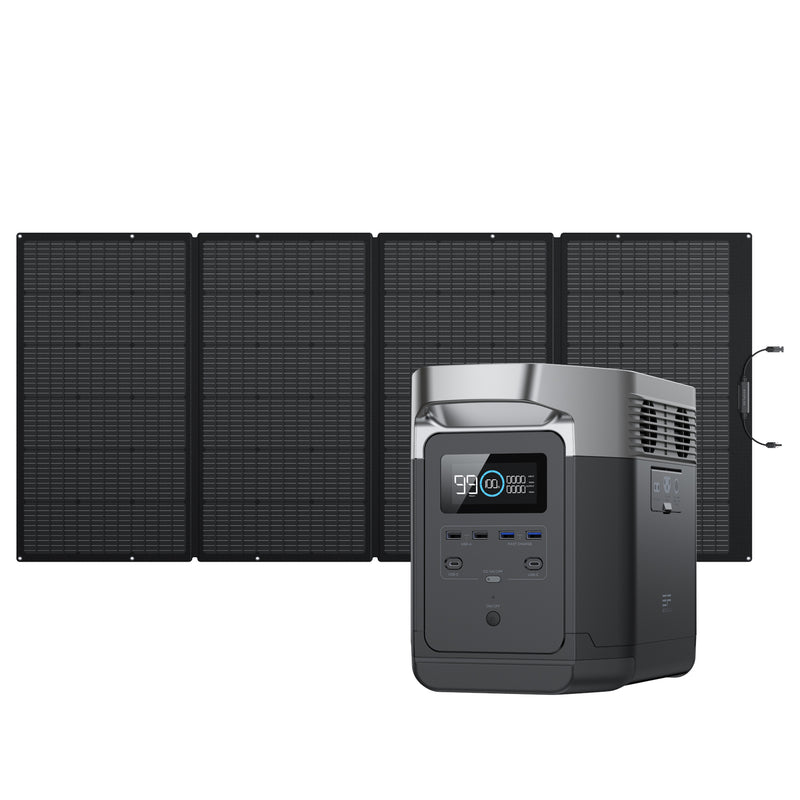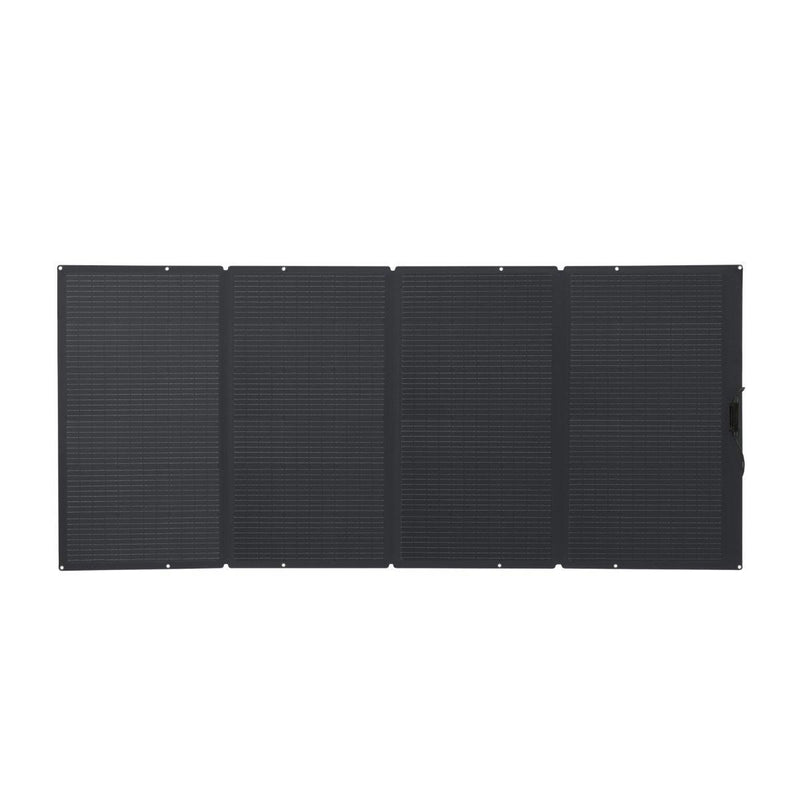 Stay in charge of any situation with DELTA and keep your devices powered at all times. DELTA has a huge 1260Wh capacity that's perfect for power outages, outdoor adventures, and professional work.


High Capacity


X-Stream Fast Charge


6x AC Outlets
Power Multiple Devices
Never lose power again
DELTA has a huge 1260Wh capacity that keeps your home devices fully charged during power outages and emergencies.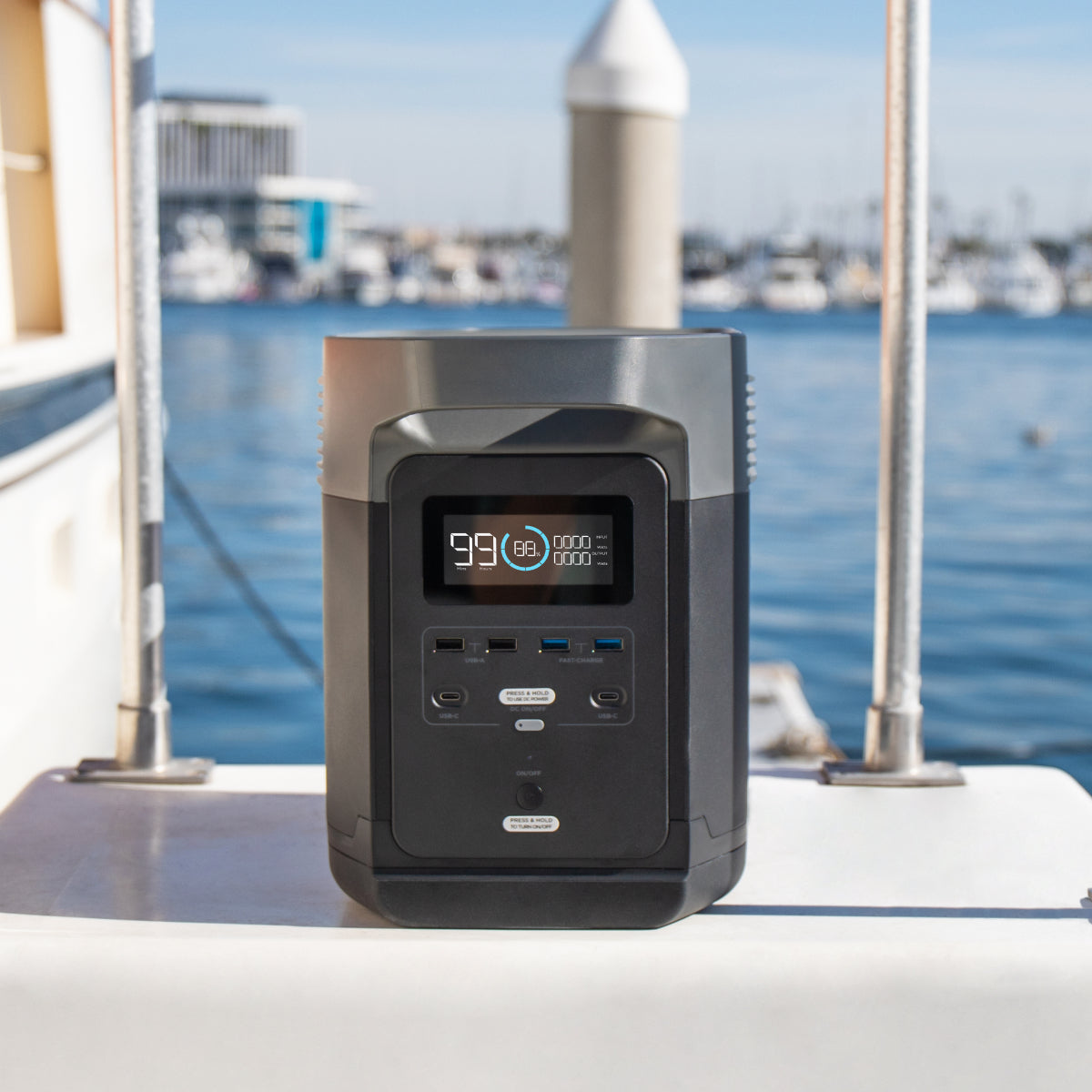 The world's fastest charging portable power stations
EcoFlow have the world's fastest charging power stations. DELTA charges from 0-80% in under an hour, giving you a quick boost of power even during the worst situations.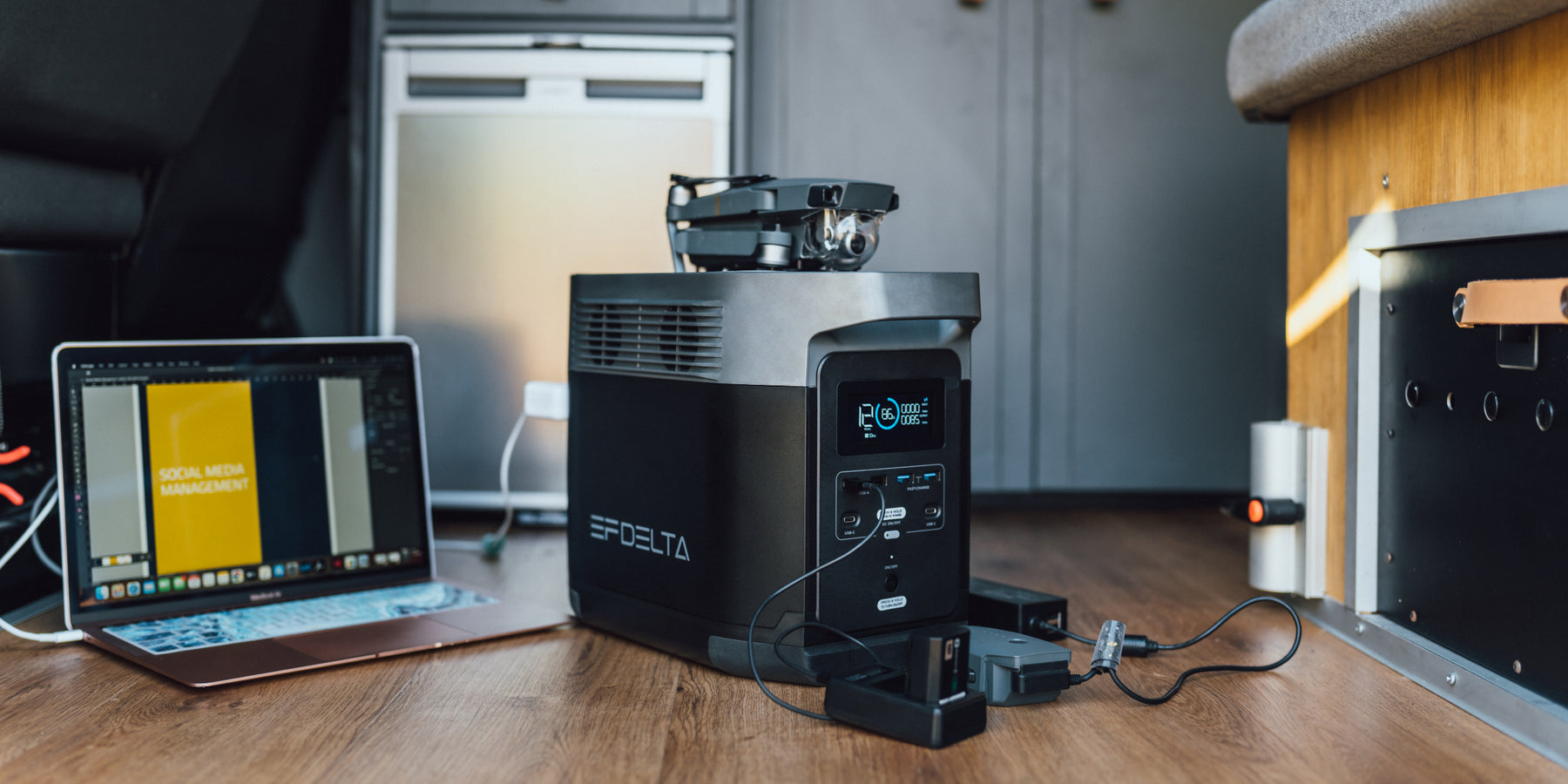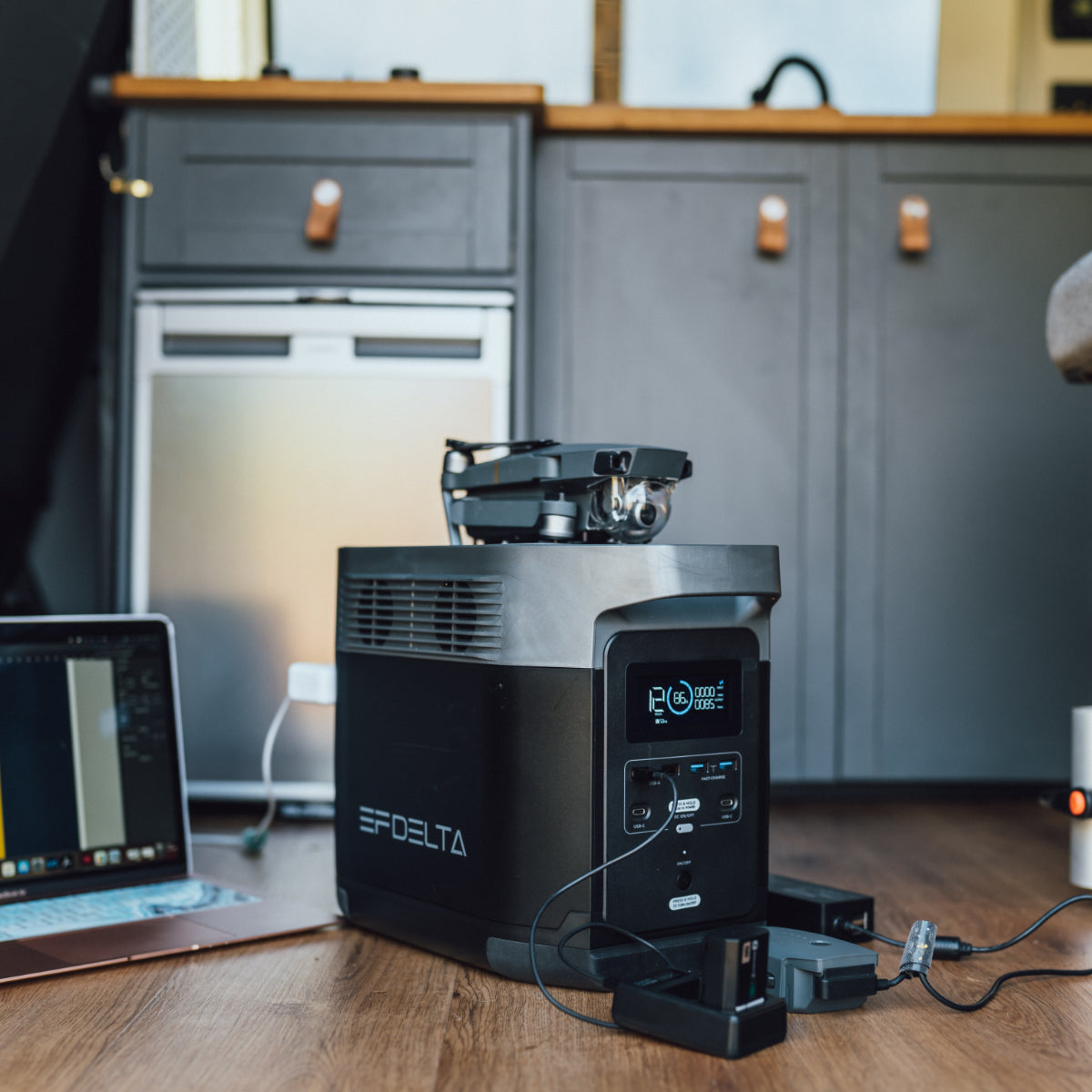 Power your essential devices
With 6x 1800W AC outlets, DELTA lets you power essential devices when you're at home and heavy-duty power tools when you're working outdoors.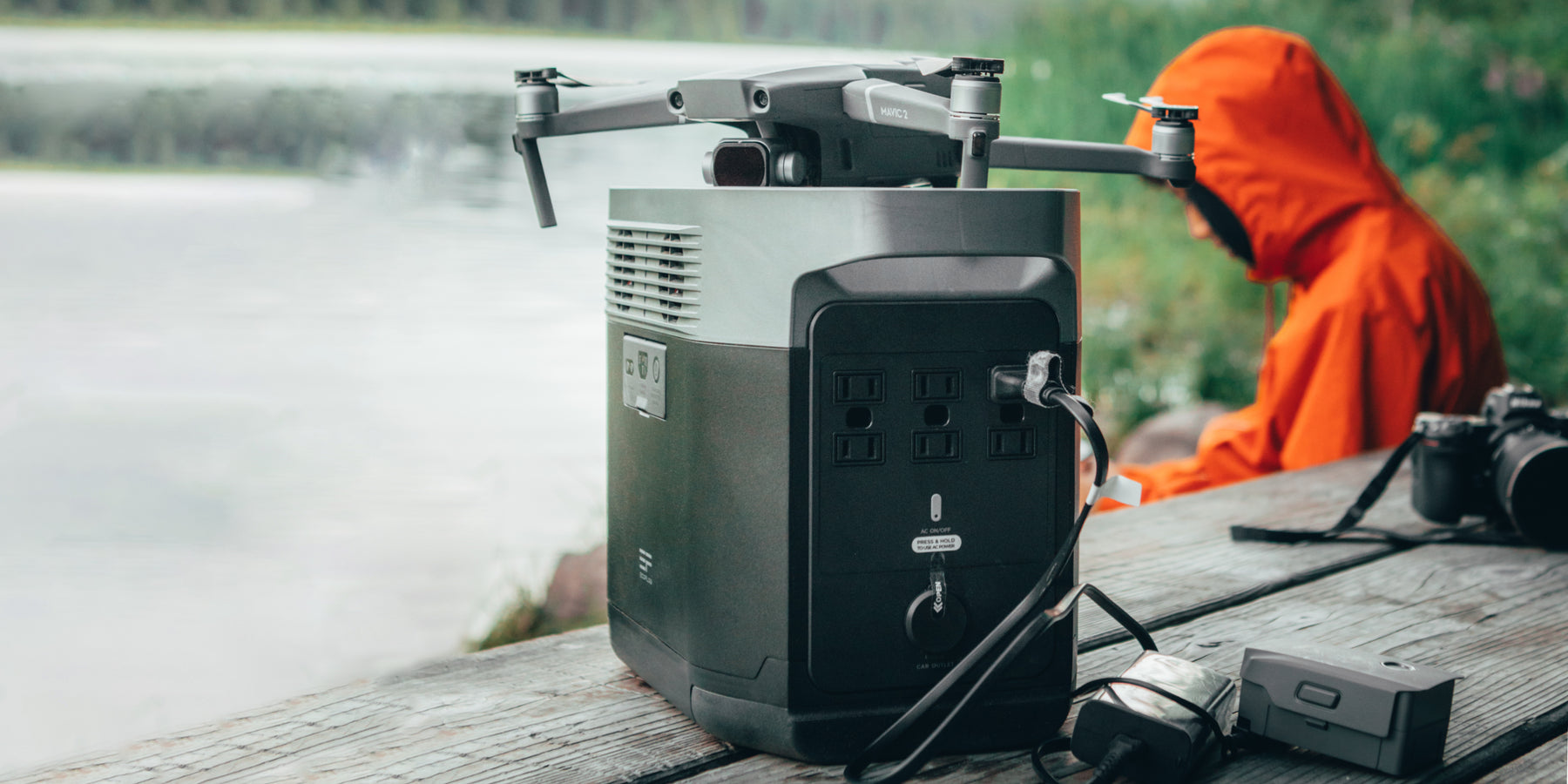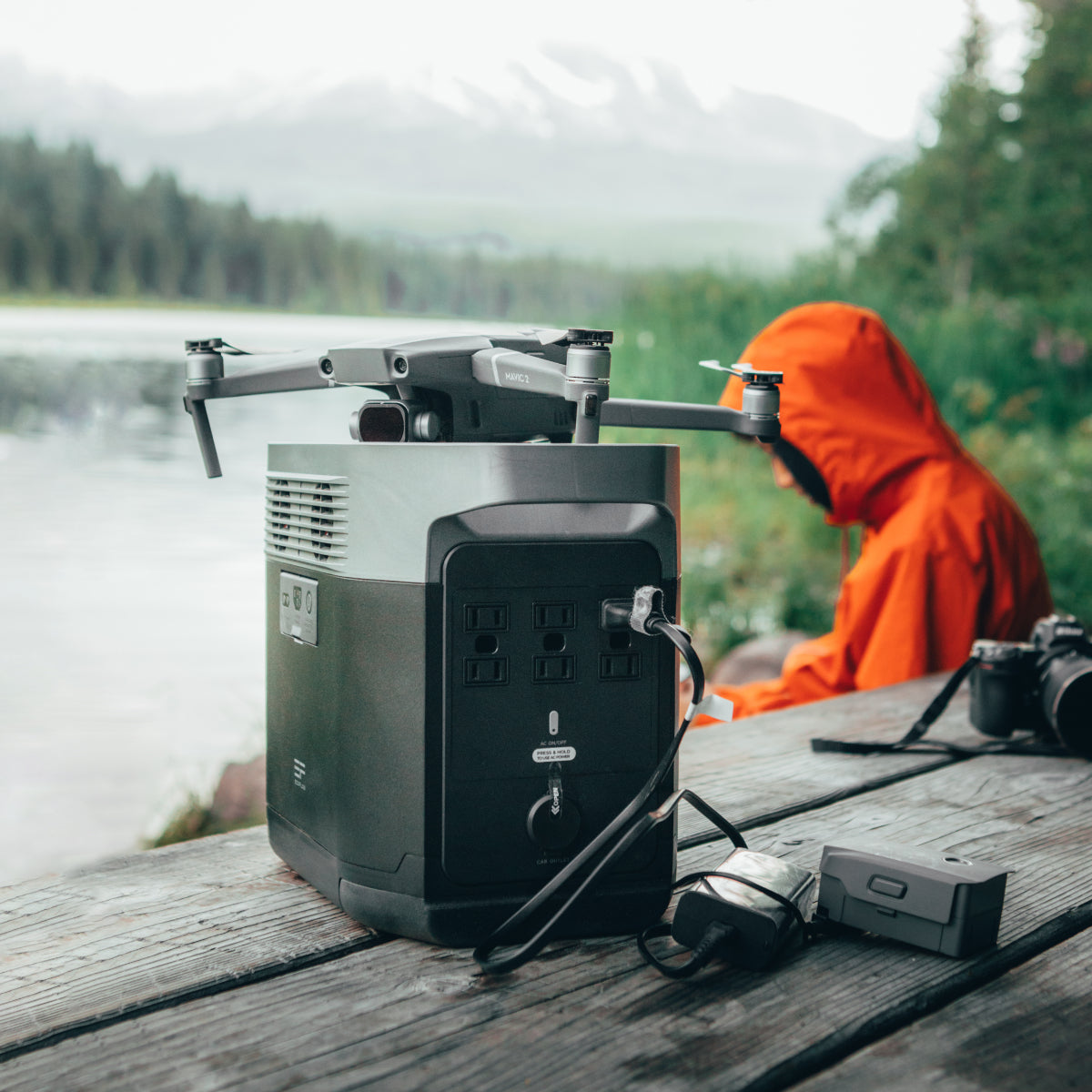 One device to rule them all
DELTA can power up to 13 devices at the same time. That's enough juice for brewing a cup of coffee, listening to your favourite radio station, or journeying into Middle-earth again.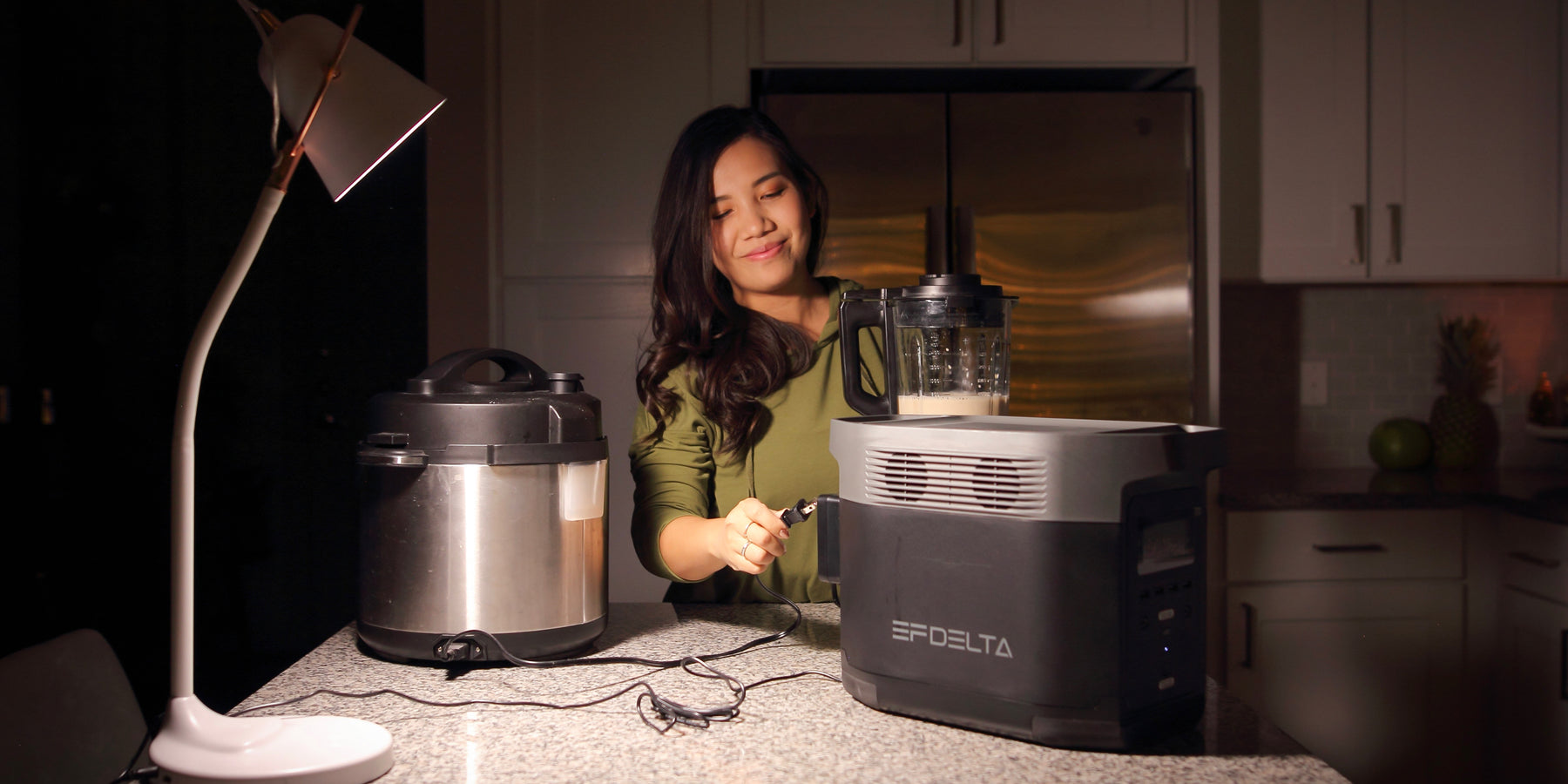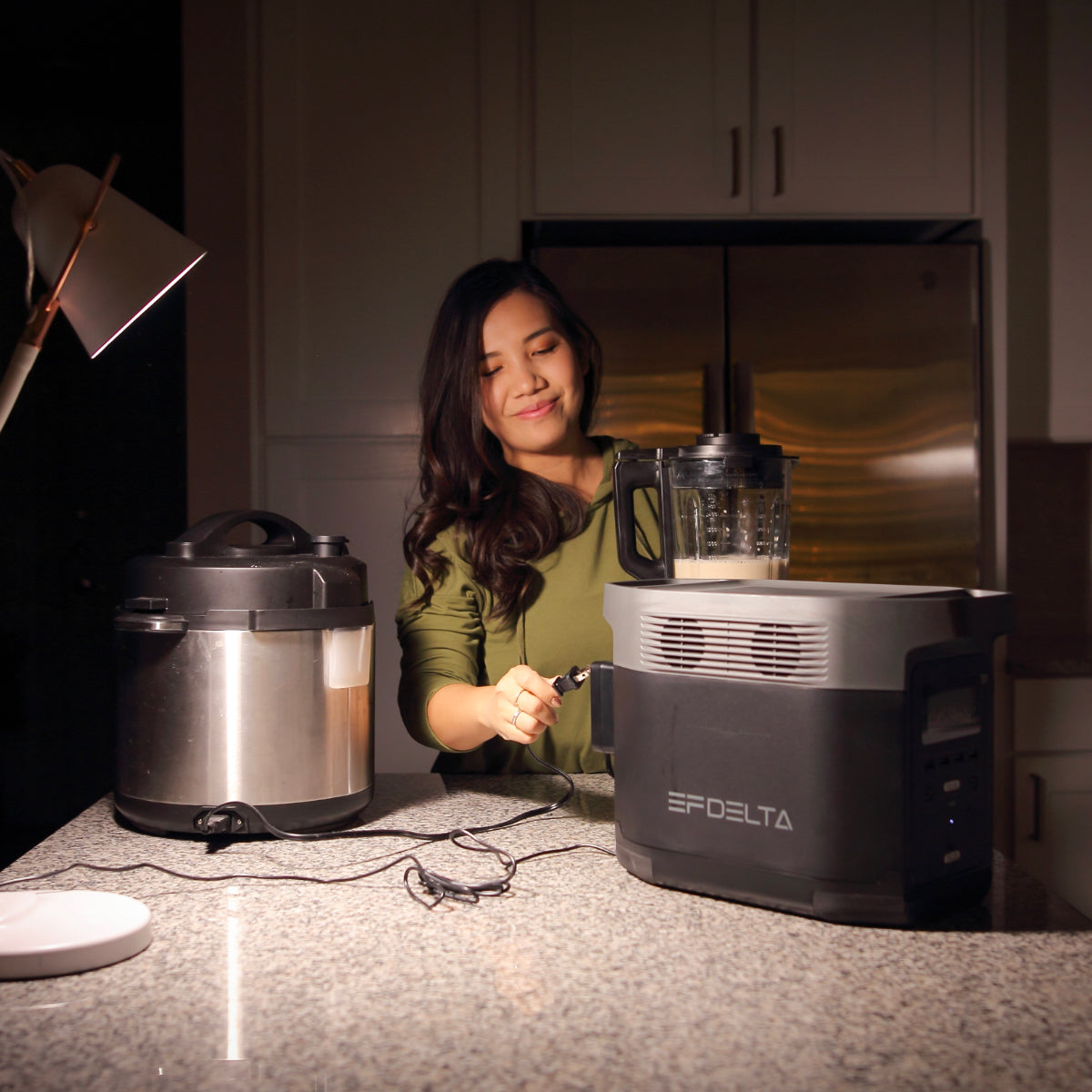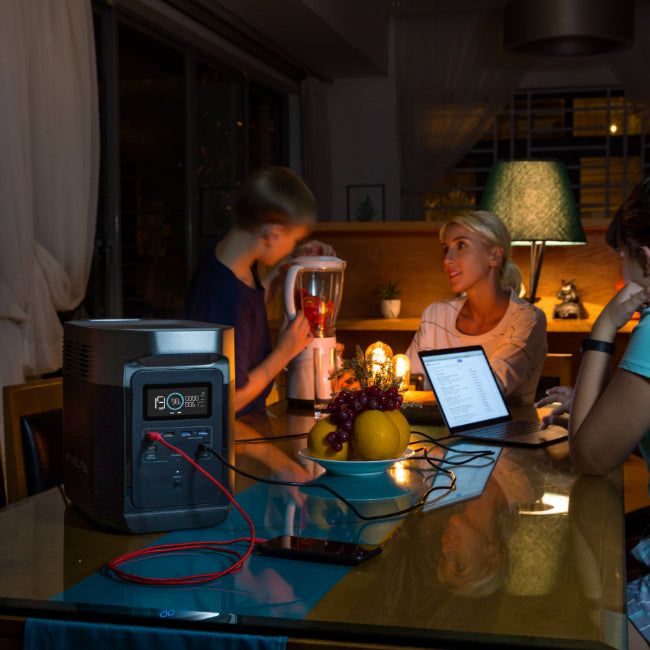 "Power outages have been super difficult to deal with for my family. The EF DELTA pretty much solved our problems, providing enough power for my family of five and giving us a sense of security during the worst situations."
Susan Ingram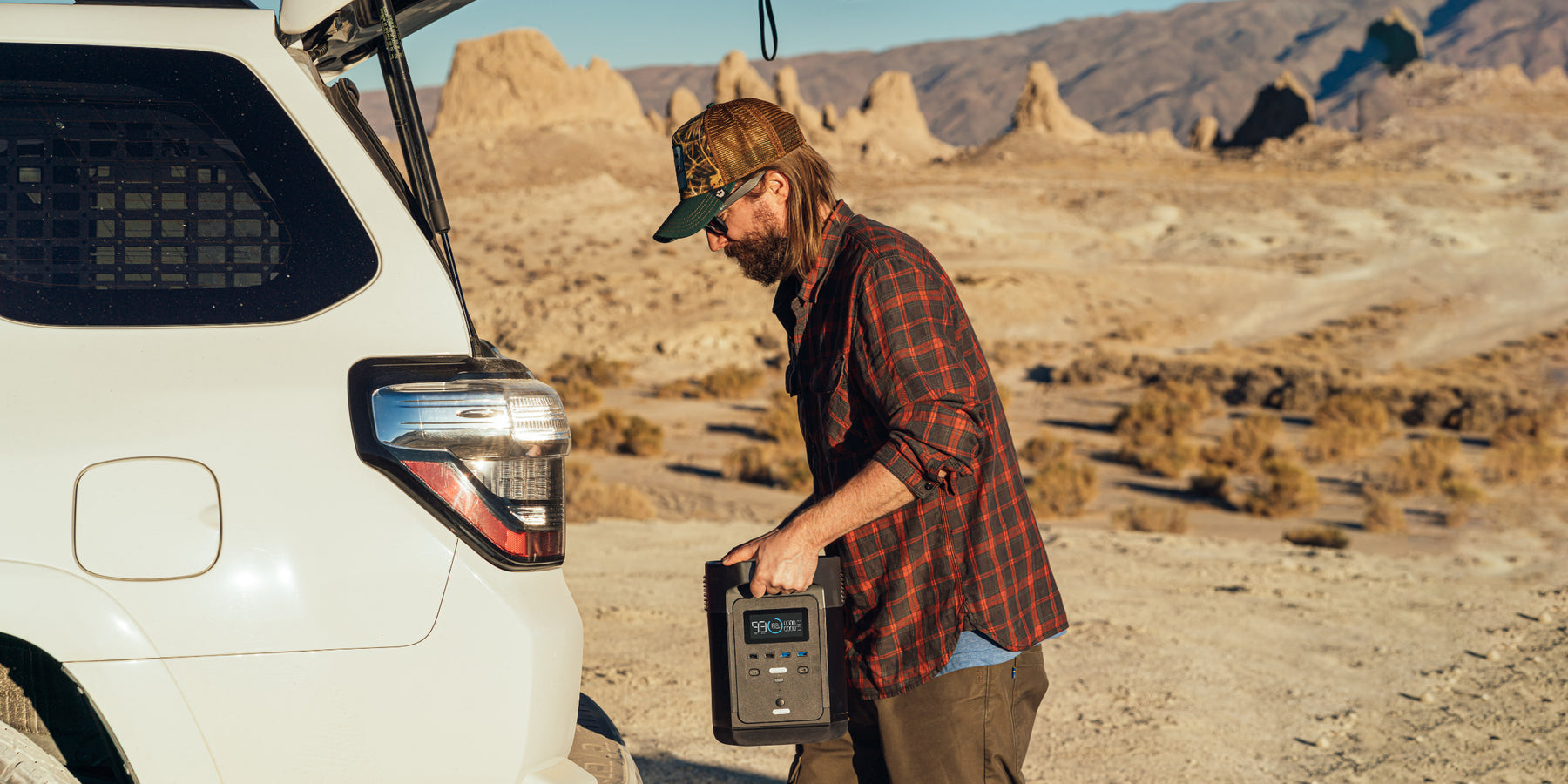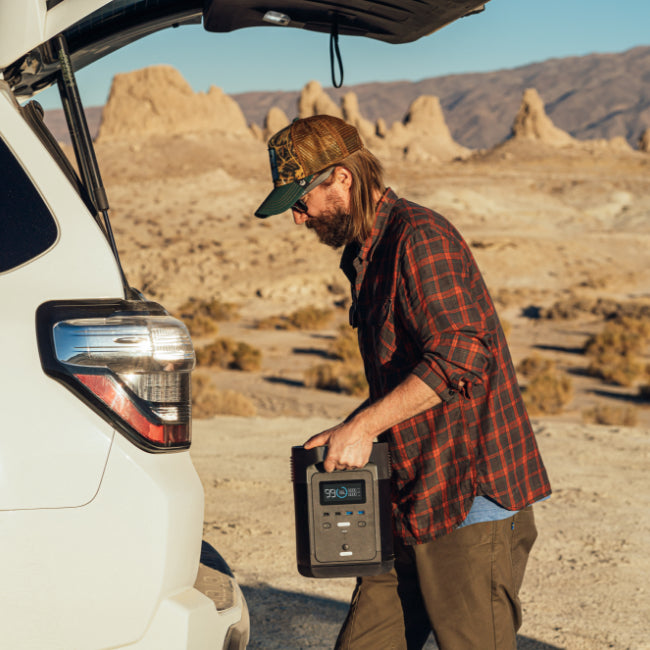 "We take DELTA along with us on RV trips, and it's such a convenient way to keep all of our devices powered. DELTA gives us the option to go off-grid with total peace of mind."
Jason Moore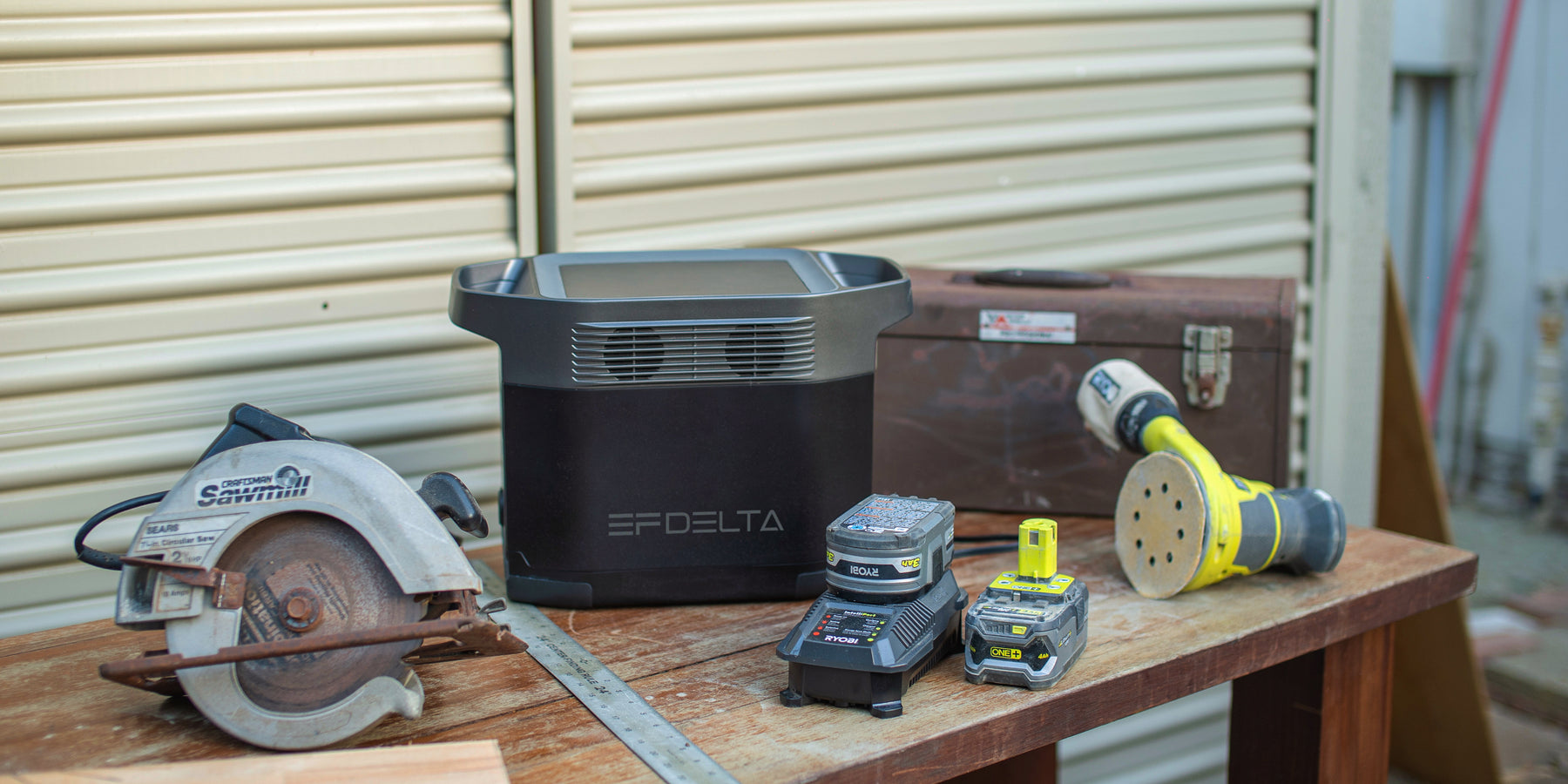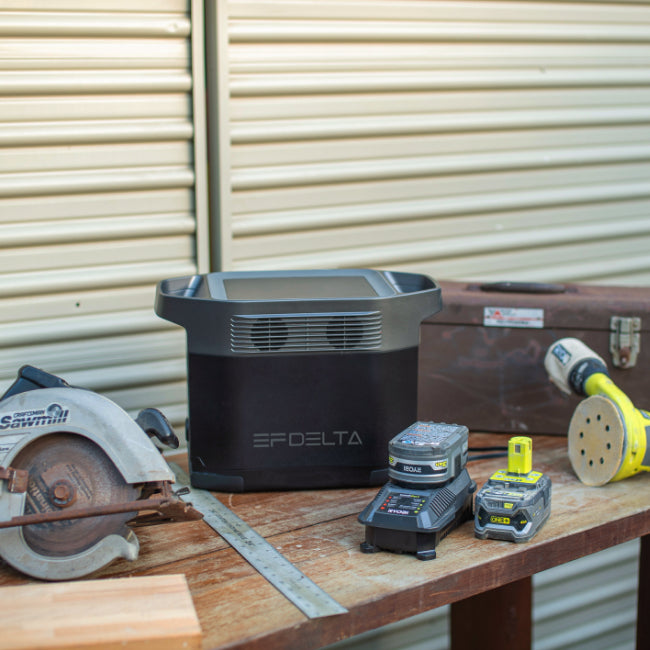 Three easy ways to charge
Solar charging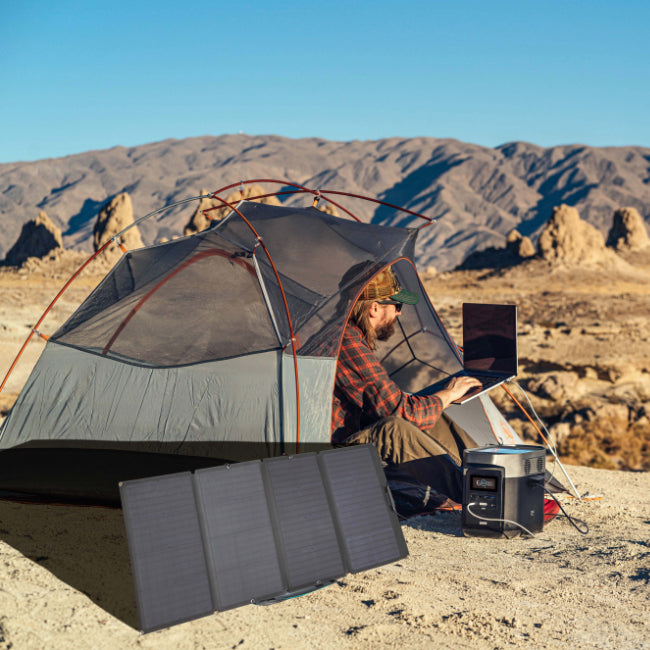 Harness the power of the sun by connecting DELTA to three 160W solar panels to fully charge in just 3.5-7 hours. Alternatively, you can connect DELTA to four 110W solar panels to fully charge in 4-8 hours.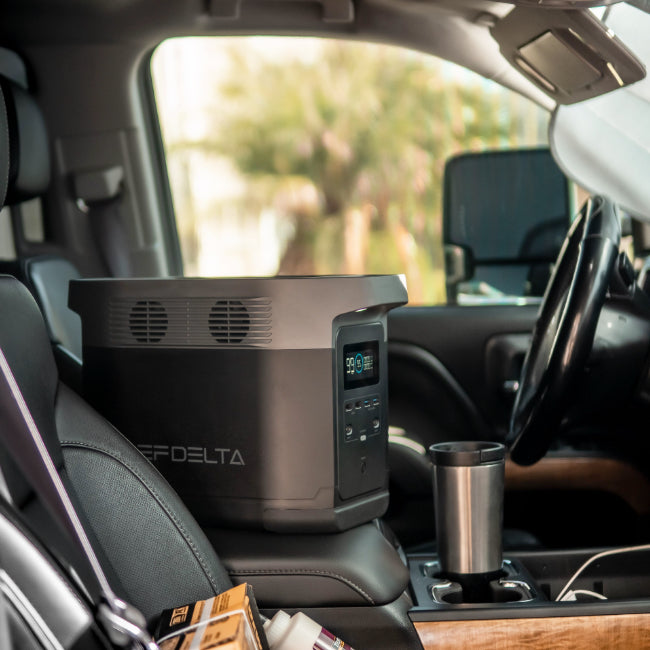 Heading on a long road trip? DELTA can be charged in 10 hours using a car adaptor.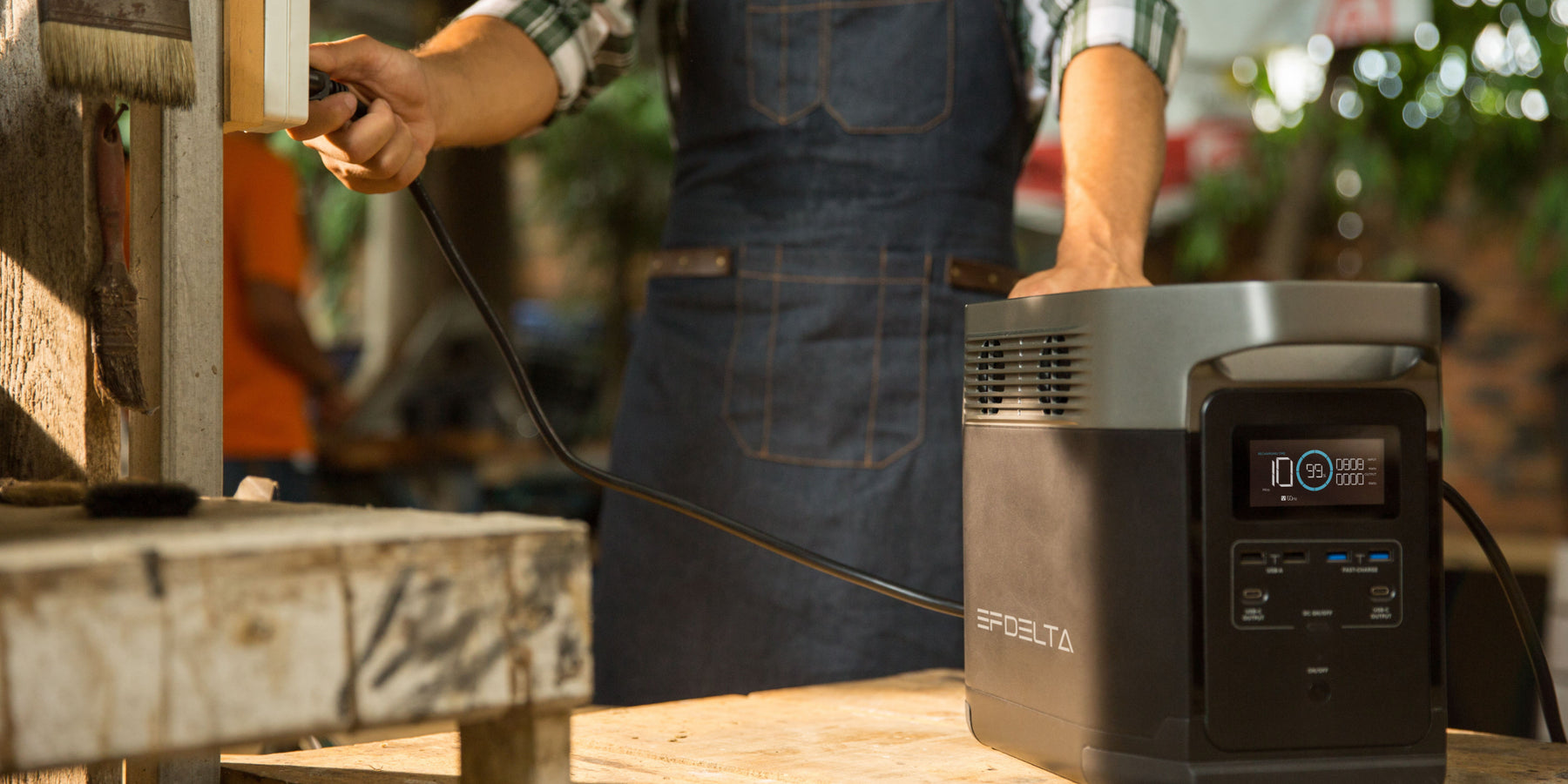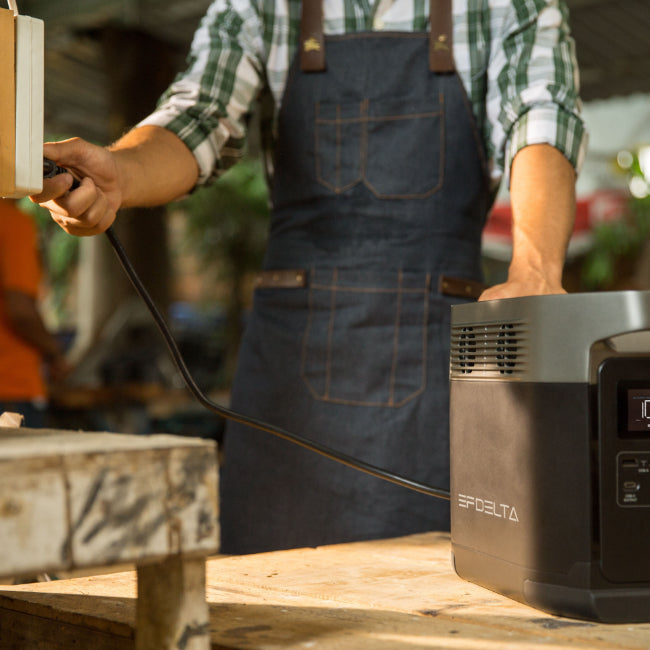 Plug DELTA into any standard AC wall outlet to fast charge from 0-80% in under 1 hour and get fully charged in just 96 minutes.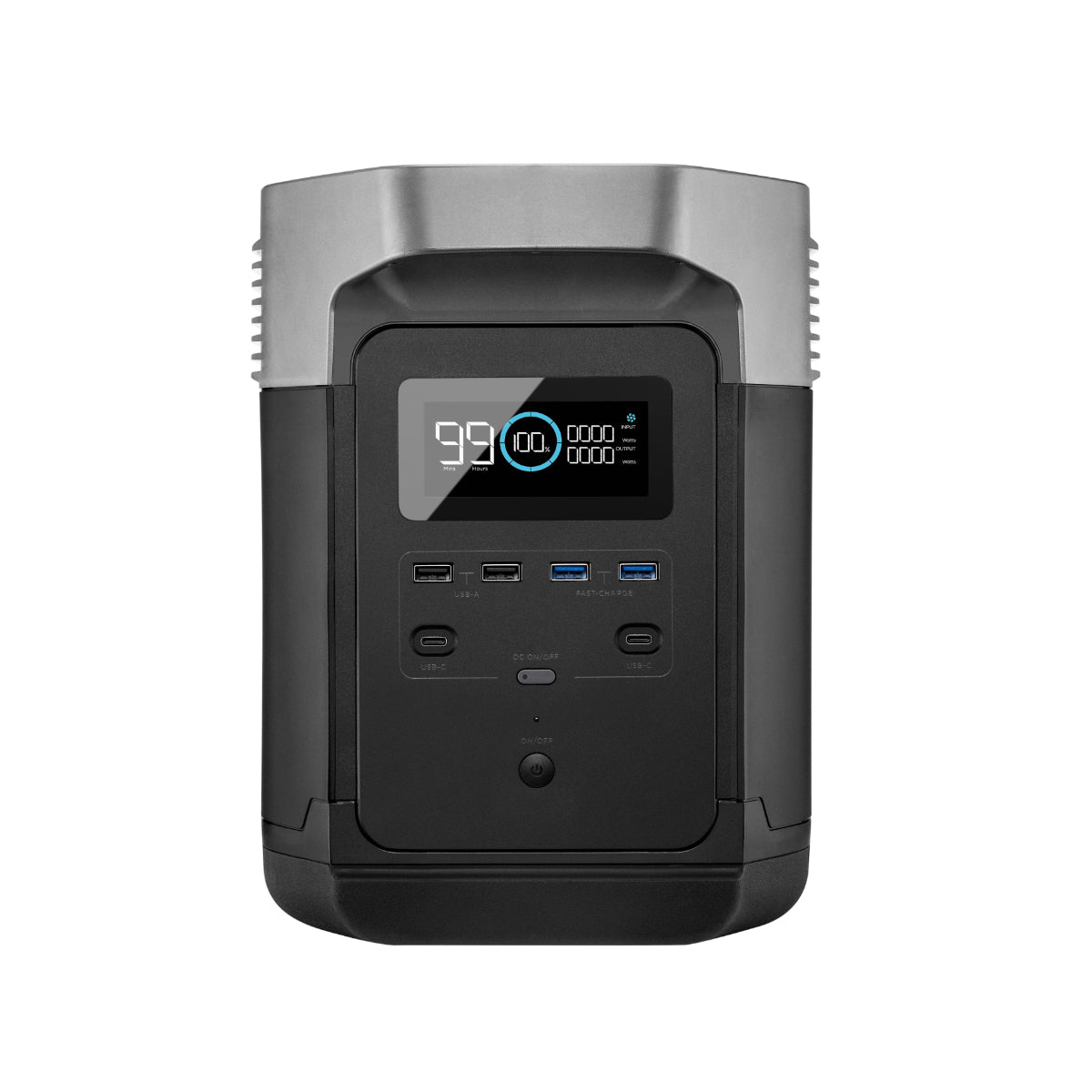 DELTA
Capacity:1260Wh
Life Cycles: 800+ Cycle
Output: 1800W (Surge 3300W)
AC Input: 1200W Max
Solar Input: 400W
$2,399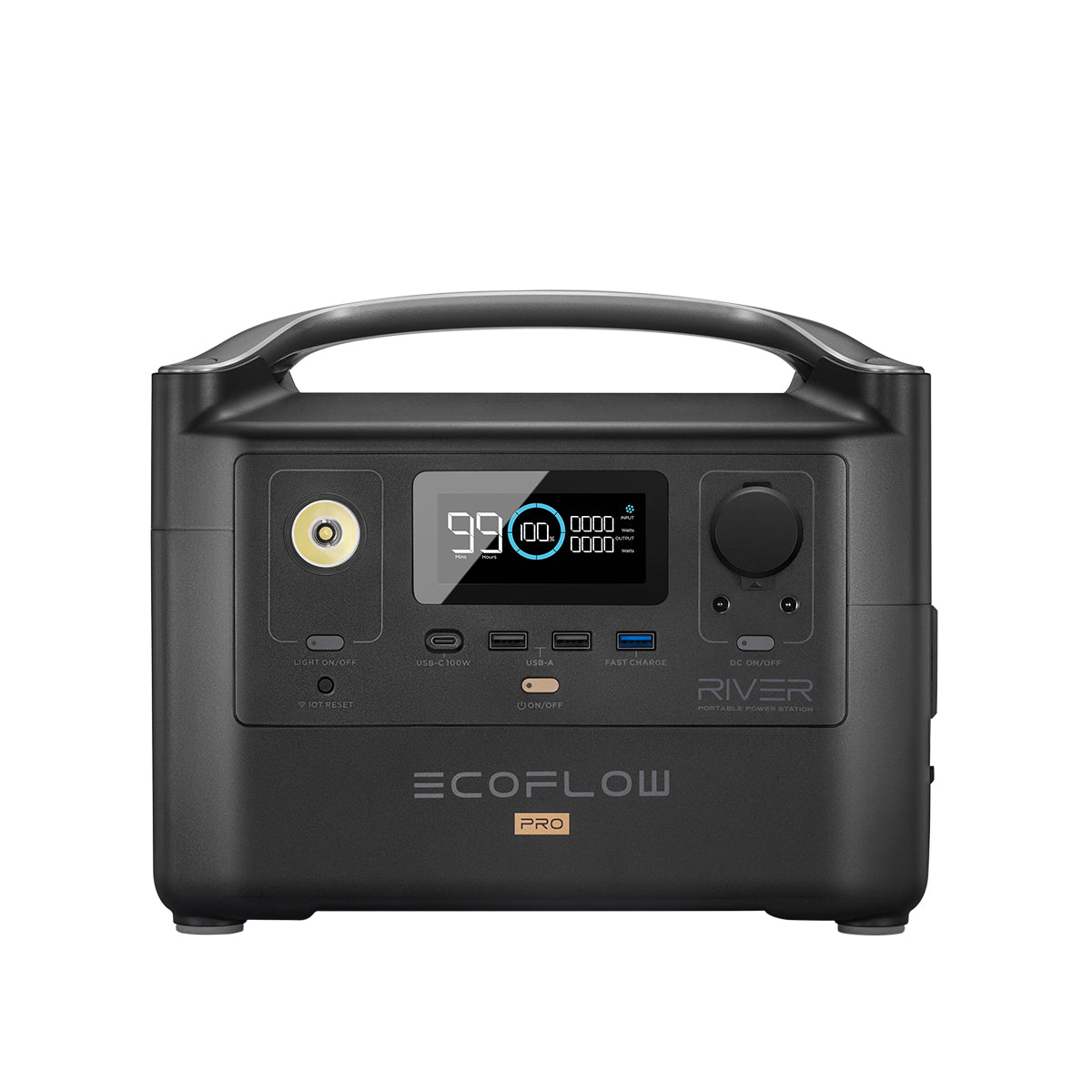 RIVER Pro
Capacity:720Wh
Life Cycles: 800+ Cycle
Output: 600W (Surge 1200W)
AC Input: 660W Max
Solar Input: 200W
$1,399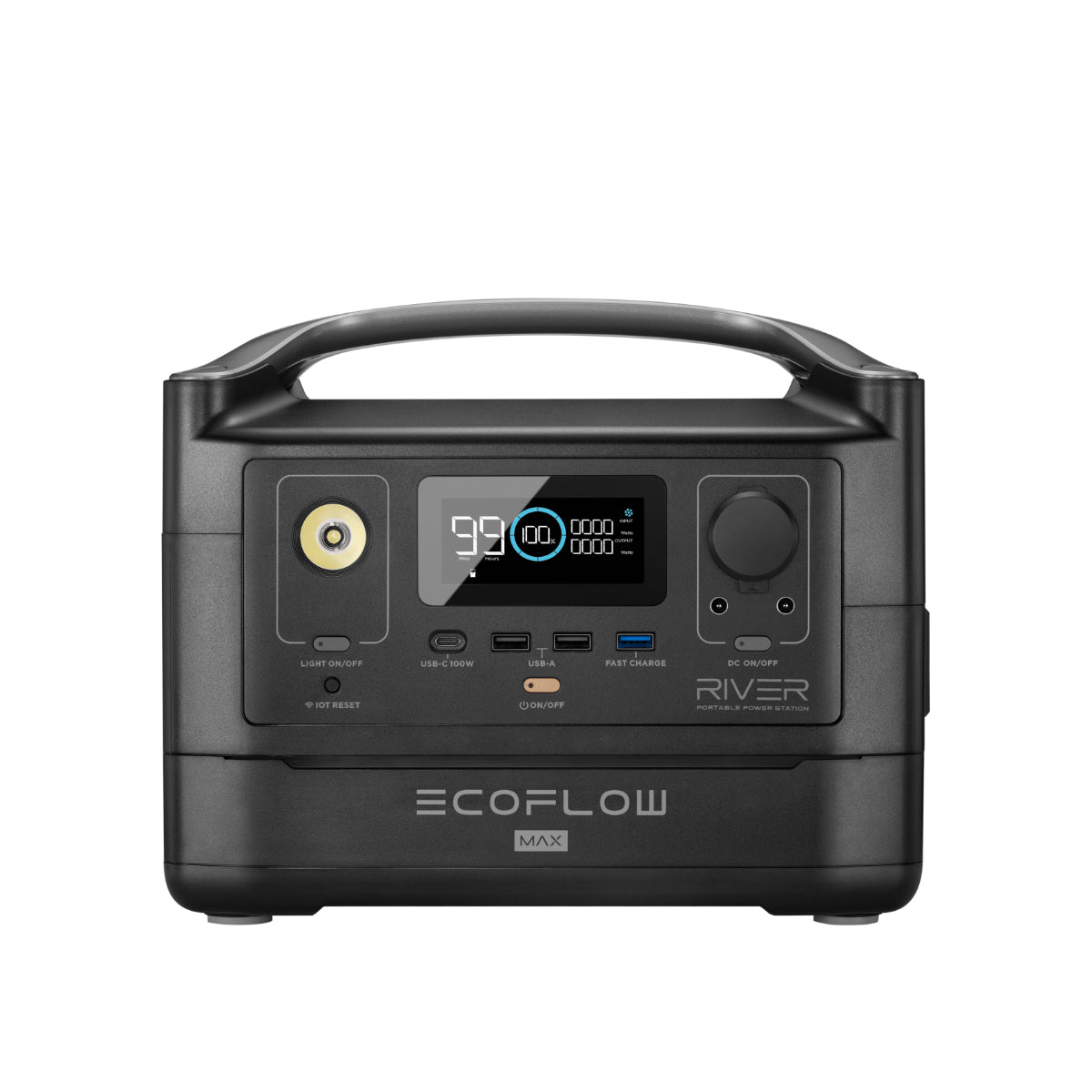 RIVER Max
Capacity:576Wh
Life Cycles: 500+ Cycle
Output: 600W (Surge 1200W)
AC Input: 500W Max
Solar Input: 200W
$1,199
Frequently Asked Questions
DELTA can be recharged to 0%~80% in 1 hour, and be fully recharged within 1.6 hours.
Under perfect sunlight conditions, DELTA can be fully charged with the following solar panel setups: 1x 110W solar panel: 16h-32h 2x 110W solar panel (in series): 7.5h-15h 3x 110W solar panel (in series): 5h-10h 4x 110W solar panel (in parallel): <4h
Yes. During this situation, DELTA will prioritise AC charging, and default to DC charging when AC charging is not used.
It can be an emergency power source (EPS), which will have the same result as UPS for most electronics. Here's the difference. When your DELTA is plugged into the wall, anything plugged into it gets power from the grid, not its battery. If power from the grid stops, DELTA automatically switches to its battery supply mode within 30 milliseconds. That means anything connected will not have power for 30 milliseconds, which may mean sensitive electronics like desktop computers and data servers turn off. Test your devices individually to see if they need UPS to stay powered.
DELTA can power essential devices whether you're at home or outdoors. Devices include lights, microwave ovens, fridges, hairdyers, laptops, phones, electric frying pans, and more.
Net Weight
30.9lbs (14kg)
Dimension
15.7 x 8.3 x 10.6 in (40 x 21 x 27 cm)
Charge Temperature
32 to 113°F (0 to 45°C)
Discharge Temperature
-4 to 113°F (-20 to 45°C)
Charge Method
AC Wall Outlet, 12V Car Adaptor, Solar Panel
Full Recharge Time
1.6 Hours (AC) 10-12 Hours (12/24V Car Adaptor) 4-8 Hours (Using 4x 110W Solar Panels in parallel)
Cell Chemistry
Lithium-ion
Shelf Life
1 year (after fully charged)
Life Span
800 Cycles to 80%+ capacity
Management Systems
BMS, Over Voltage Protection, Overload Protection, Over Temperature Protection, Short Circuit Protection, Low Temperature Protection, Low Voltage Protection, Overcurrent Protection.
Testing and certification
UL CE FCC RoHS PSE
AC Charge Input Power
X-Stream charge (1200W max)
AC Charge Input Voltage
230Vac (50Hz/60Hz)
Solar Charge Input
400W 10-65V DC 10A max
Car Charger
12V/24V DC 8A max
AC Output (x4)
1800W total (Surge 3300W), 230Vac (60Hz)
USB-A Output (x2)
5V DC, 2.4A, 12W Max, per port
USB-A Fast Charge (x2)
5V DC, 9V DC, 12V DC, 2.4A, 28W Max, per port
USB-C Output (x2)
5V DC, 9V DC, 15V DC, 20V DC, 3A, 60W Max, per port
Car Power Output (x1)
108.8W, 13.6V DC, 8A max
Specs of 160W Solar Panel
Unfolded Dimensions
26.8*61.8*1.0 in (68*157*2.4 cm)
Folded Dimensions
26.8*16.5*1.0 in (68*42*2.4 cm)
Weight
15.4 lb (Solar Panel 11 lb)
Open Circuit Voltage
21.4V (Vmp 18.2V)
Short Circuit Current
9.6A (Imp 8.8A)
Cell Type
Monocrystalline Silicon
Operating & Storage Temperature
−4°F to 185°F
*Please Note: The above weight, size, etc. have certain measurement errors. Please refer to the actual measurement.
Solar panel
I love it, but it is very heavy, but I will buy other solar panel.
Great....but not in cold weather.
I bought this along with a set of solar panels to power a powerful laptop, cameras, drone and laser scanner on a very remote job site in Death Valley. It worked great and I never got close to running out of juice. I've powered an entire wedding (two 40' tents with lighting, as well as a sound system and a band) with it! It gave me an 8 hour run time for that.



However, you should know that in cold weather, like with all lithium batteries, it's performance is severely impacted. I've tried to use it in an off grid cabin while plugged into the solar panels but it will not take a charge from the panels when it is cold out. If it is charged to 100%, but cold, I get a very short use cycle before it dies. If you are planning to use a battery generator in cold weather you'll have to work out a way to keep the unit warm. I've thought about trying to put it into a cooler with a couple of hand warmer packs, but I haven't tested that yet.
EcoFlow is Unparalleled Quality
I chose EcoFlow over several back-up power systems because of quality, simplicity, and dependability. Every home should have one or more of these units.
Ecoflow
Got Ecoflow in 5 Business days. Product is great very easy to set up.
EcoFlow 400W Solar Panel
The case to be used as a stand is a joke. I couldn't get it to work for me at all. I opted to just lay the panel flat on my back deck. The sun hits my deck from around 9am until 6pm. It is July so I'm sure that will change, but for now it is working for me. With all that said and done, I still am able to produce up to 310watts. I'm very happy with that. My TV, and my gaming laptop and 2 fand and 2 phone chargers only pull 170watts. So I am able to game and charge other items and have no worries of using more power than I am producing..