The centerpiece of your adventure
Power up to 9 devices at once with all the ports you'll need.
So Much More Sun
Premium monocrystalline silicon cells provide a high conversion efficiency of 21-22%. Recharge even faster by chaining multiple panels in a series or in parallel.
Better Together
Recharge freely and naturally when you link EcoFlow's 160W Solar Panel to a RIVER Pro portable power station. You'll be fully charged in 6-9 hours.
Frequently Asked Questions
Yes. You can control RIVER Pro using your phone. Just link to it in the EcoFlow app to control it from afar.
Yes. RIVER Pro can power devices up to 1800W with our proprietary technology, X-Boost. *X-Boost can run devices that require up to 1800W, however, it's best to test before use. Some 600W–1800W appliances with strict voltage requirements may not function (e.g. air compressors).
It can be an emergency power source (EPS), which will have the same result as UPS for most electronics. Here's the difference. When your RIVER Pro is plugged into the wall, anything plugged into it gets power from the grid, not its battery. If power from the grid stops, RIVER Pro automatically switches to its battery supply mode within 30 milliseconds. That means anything connected will not have power for 30 milliseconds, which may mean sensitive electronics like desktop computers and data servers turn off. Test your devices individually to see if they need UPS to stay powered.
Increase the efficiency of your solar panel by facing it directly at the sun without any obstructions. Remember to be careful when handling your solar panel because damaged cells provide less power.
Yes, if the only thing between it and the sun is transparent, but it won't charge as well compared to being outside. You can compare the difference by looking at the input section of your power station's LCD screen.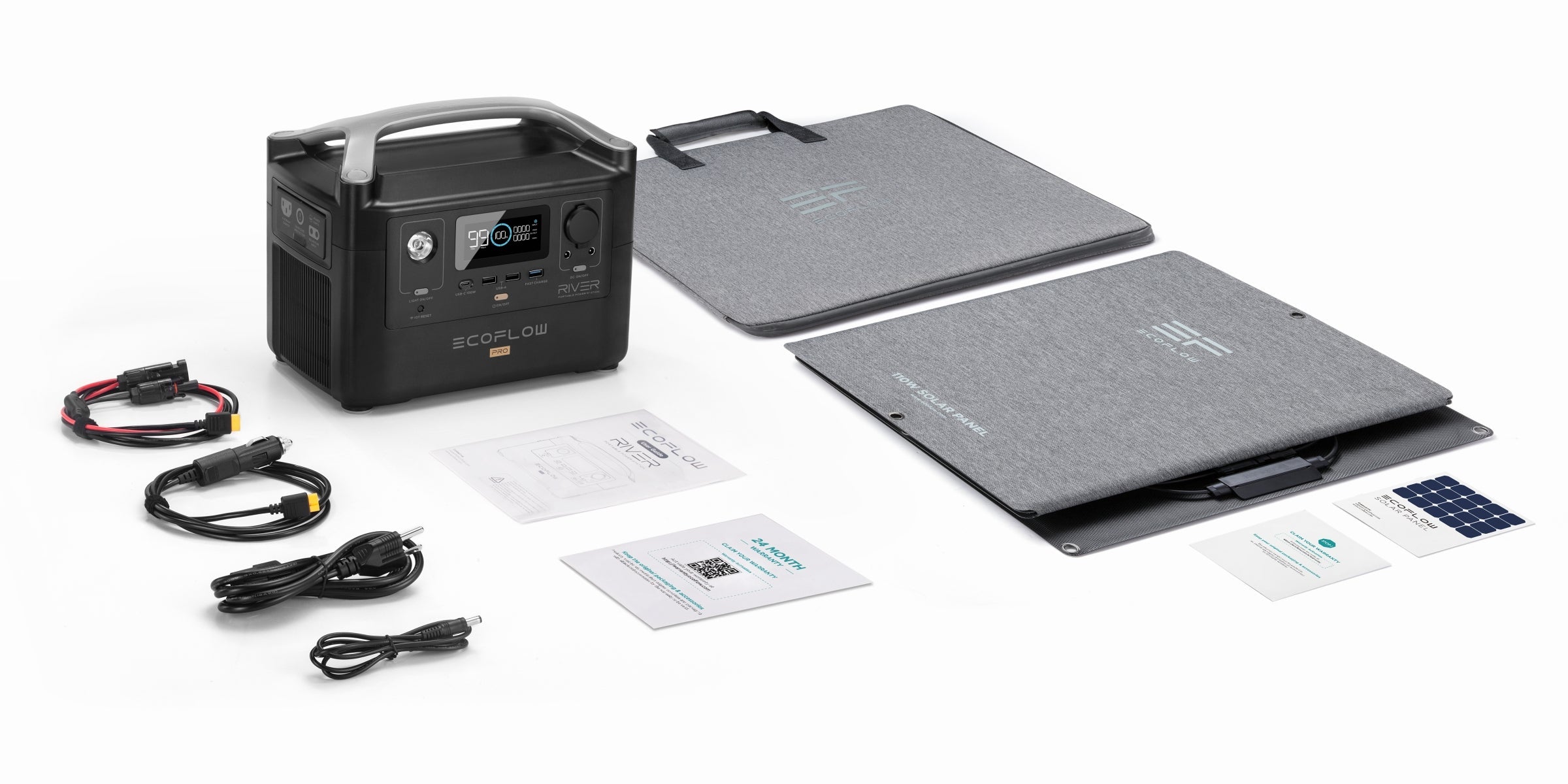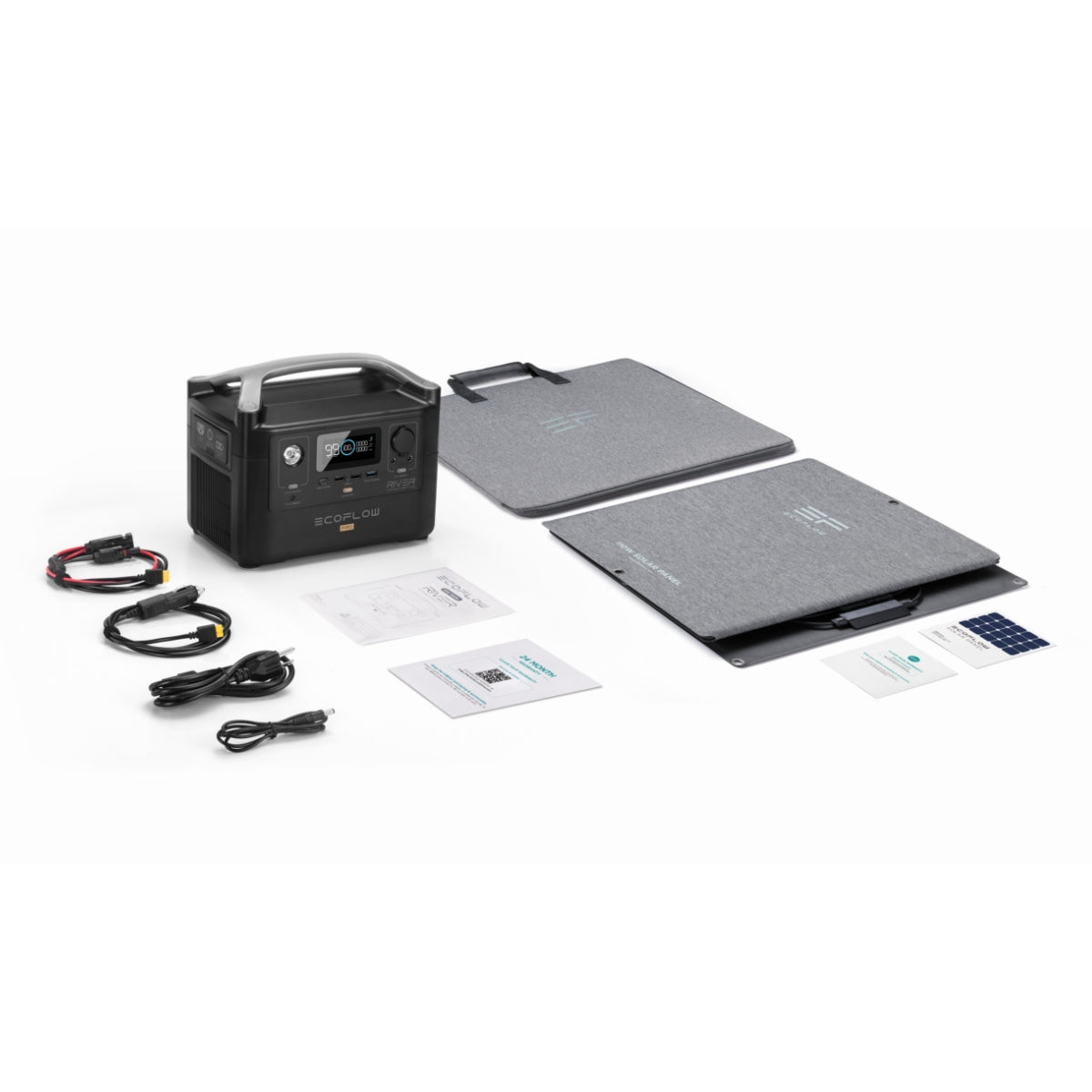 1. EcoFlow RIVER Pro Portable Power Station 2. DC5521-DC5525 Cable 3. Solar to XT60 Charging Cable 4. 1.5m AC Charging Cable 5. 1.5m Car Charging Cable 6. User Manual 7. Warranty Card 8. 160W Solar Panel 9. 160W Solar Panel Bag 10. 160W Solar Panel User Manual
Net Weight *
16.8 lbs (7.6kg)
Dimensions *
11.4 x 7.1 x 9.3in (28.9 x 18.0 x 23.5cm)
Charge Temperature
32 to 113°F ± 5°F (0 to 45°C ± 3°C)
Discharge Temperature
-4 to 113°F ± 5°F (-20 to 45°C ± 3°C)
Charging Method
AC Wall Outlet, 12V Car Adapter, Solar Panel(s)
Full Recharge Time
1.6 Hours (AC) 8 Hours (12V Car Charger)6-12 Hours (Using 1x 160W Solar Panel)
Cell chemistry
Lithium-ion
Cycle life
800 Cycles to 80%+ capacity
Management Systems
BMS, Over Voltage Protection, Overload Protection, Over Temperature Protection, Short Circuit Protection Low Temperature Protection, Low Voltage Protection, Overcurrent Protection
Testing and Certifications
UL Standard, CE, FCC, RoHS, RCM
AC Charge Input Power
X-Stream Charge 660W Max
AC Charge Input Voltage
220-240Vac (50Hz/60Hz)
Solar Charge Input
200W 10-25Vdc 12A Max
AC Output (x2)
600W (Surge 1200W) total, 230Vac (50Hz/60Hz)
USB-A Output (x2)
5Vdc, 2.4A, 12W Max per port
USB-A Fast Charge (x1)
5V/2.4A,9V/2A,12V/1.5A 18W Max
USB-C Output (x1)
5Vdc, 9Vdc, 12Vdc, 15Vdc, 20Vdc, 5A, 100W Max
Car Power Output (x1)
136W, 13.6Vdc, 10A Max
DC5521 Output (x2)
13.6Vdc, 3A Max per port
*Please Note: The above weight, size, etc. have certain measurement errors. Please refer to the actual measurement.
Great for CPAP
Works great with CPAP Airsense 10. Ran my CPAP for three nights with the humidifier off and the heated tube off.
Compact and Powerful
Compact and powerful. Great for everyday use where there's no power available.
Going to use soon
Tried it out by plugging in and used a fan for a while to test it out, but the real test will be after the hurricane this week.
Fantastic Product
Top of the line and fantastic product. The fast charge is the best on the market and from my experience over the last few months using this product almost every day, it holds true. My ONLY gripe with this product is the lack of dust cover plugs on the unit. I've had to source those through 3rd parties. You could completely get rid of the hinged cover for the solar plug(s) for removable dust covers and would allow you plug in the according connector and still maintain a sealed unit. The lack of dust covers is constantly worrying as I keep this unit outside and exposed to the elements in order to charge. Now that I have those covers though, it will outlast any normal unit without them for sure. Would be a great addition to newer models or even if you just include a bag of assorted dust covers with the sale of future units.
Rocks!
So far so great! I charged 2 shimano ep8 ebikes in the field. Thought I would need the booster battery, and still might, but so far so good.