Stay cool this summer while you camp, fish or enjoy the outdoors
with our WAVE 2 and GLACIER bundle.
The world's first wireless portable AC with a heater.
Fastest cooling and heating:
EcoFlow's tailor-made compressor enables Wave 2 to provide 5100 BTUs of cooling and 6100 BTUs of heating.
Prepare for ultimate comfort with Wave 2!
5 min of cooling from 30℃ to 20℃ (-10℃)
5 min of heating from 20℃ to 30℃ (+10℃)
The Gold Standard in cooling - 120% more powerful than industry norms
* Drop 10℃ from 30℃ for 10m³ in 5 min with 5100 BTUs of cooling,and raise 10℃ from 20℃ in 5 minutes for 10m³ with 6100 BTUs of heating in optimal running performance.
Installation-free!
The perfect air conditioner for any compact space!
It is extremely simple to use, requiring no installation or drainage*.
There are air duct adapters to fit any space. Enjoy the convenience of cooling and heating without any fuss.
* No drainage is needed in cooling mode when humidity is below 70%, but it is still needed in heating mode.
Peaceful snooze, quiet & long
With EcoFlow's advanced software algorithm, the Wave 2 offers multiple modes and app control.
It runs quietly (44 dB) in Sleep Mode and up to 8 hours in Eco Mode.
Experience longer-lasting comfort in your tent, RV, or home with its powerful and portable design.
Industry's first integrated ice maker.
Equipped with a powerful 120W compressor, it brings you 18 solid ice cubes in 12 minutes*. For all the spine-tingling moments along your journey, spice them up with chilled sodas.

* The test result was gained with the ambient temperature of 25°C and water temperature of 15°C. The first round of ice making might take longer than 12 minutes.
A fridge-freezer at its best.
Equipped with a removable divider separating it into two zones, and independent temperature control,
both sections can refrigerate and freeze from 10°C to -25°C.
Steak, cheese, or soft drinks......whatever you want to stock up on, it shape-shifts to meet your needs.
The fastest cooling in the industry.
Cooling at the optimum speed when empty, GLACIER rapidly refrigerates from 30°C to 0°C in around 15 minutes.
Cooling for up to 40 hours wire-free.
Designed for absolute portability, GLACIER can be powered by the Plug-in Battery* and free from messy, limiting cables.
With a large battery capacity of 298Wh, savor up to 40 hours* of easy access to frozen meals, fresh fruit, and ice-cold beverages.
* Plug-in Battery is sold separately.
* The test result was gained with the fridge empty, its temperature set to 39℉ (4°C), and the ambient temperature of 25°C.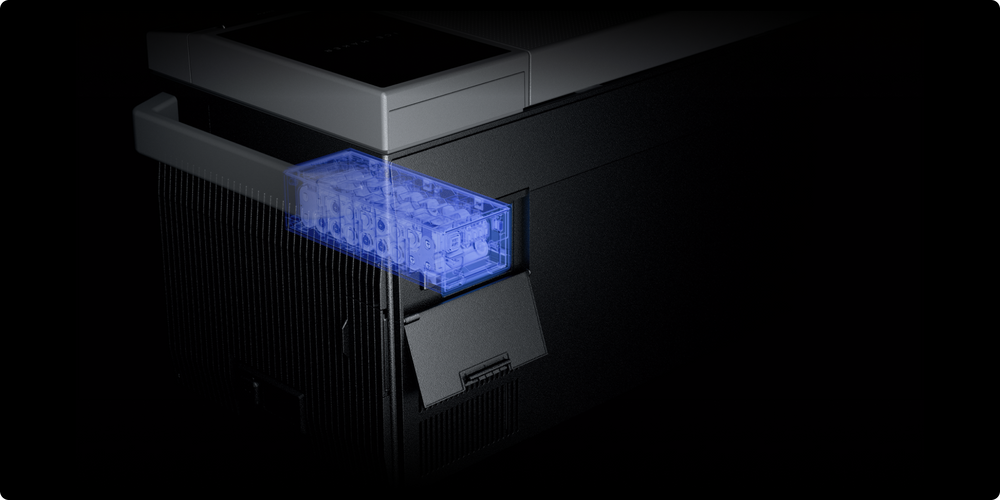 Charge laptops and more on the go.
With 100W max USB-C charging, it even powers up your phones and laptops so you'll never lose touch with your loved ones.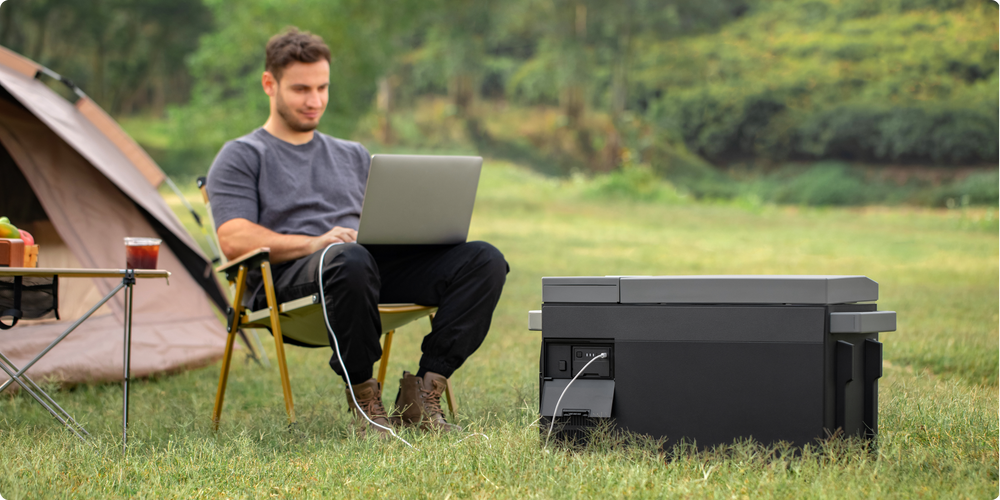 Specs of WAVE 2
AC Input
100-240V 50/60Hz, 820W max
Wi-Fi
This product supports 2.4G Wi-Fi only
No-Drain Function
Supported (in cooling state)
Specs of GLACIER
Operational Volume
Single zone: 38L (40 qt.); Dual zone: 36L (38 qt.)
Dimensions (wheels and handles not included)
Refrigeration Temperature Range
–25°C to 10°C (–13°F-50°F) (ambient temperature at 25°C)
Noise Level (stable operation)
Ice making: <52dB; Refrigeration: <42dB
Quick Freezing Mode (30℃ to 0℃)
Refrigeration Power Rating
Wi-Fi
This product supports 2.4G Wi-Fi only